13 Best Cat Water Fountain Reviews 2022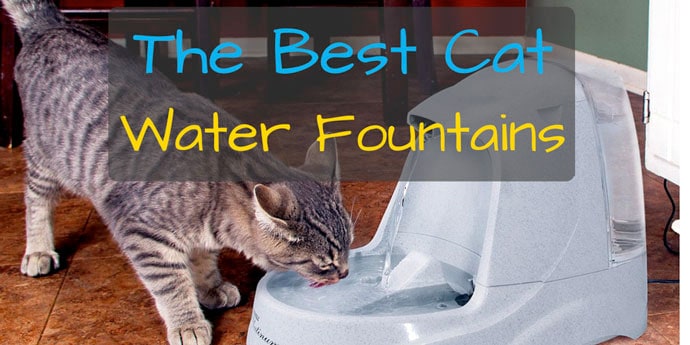 Having a water fountain in the house for your cat can be quite handy for your furry friend. Saving you multiple trips per day to fill up your cat's water bowl, there's no going wrong with a kitty water dispenser that can last for several days to week without a refill.
We've compiled in depth reviews of the best cat fountains on the market today so you don't waste your time making the wrong decision. Take a look through our pros and cons of each drinking fountain, and then make your decision!
Last update: September 23, 2023
Best Cat Water Fountain Reviews of 2022
Top 3 Cat Drinking Fountain Picks (4.5+ Stars)
Our top 3 fountains tend to sit well above the rest of the pack when it comes to reliability, durability, and overall features for the money. Many are ceramic fountains that offer aesthetically pleasing designs combined with maximum functionality.
Here's our list of the best cat water fountains:
1. Drinkwell Avalon
Our rank: 4.9/5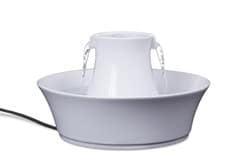 Ranked as one of our top two water fountains on the market, you really won't be disappointed with the Avalon. It is a very nice looking ceramic fountain that ranks high mainly because of the easy ability to clean it and having multiple levels of water feeding available.
Durable ceramic material
Easy to replace charcoal filters
Ideal for multiple pets because of the multi level design
Ceramic helps stop bacteria formation and requires less cleaning
Fantastic for feeding multiple cats
2 Liter (70 oz) capacity

---
2. Drinkwell Platinum
Our rank: 4.8/5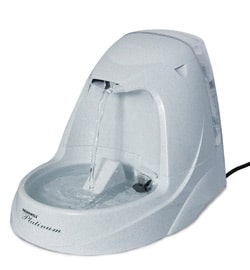 The Drinkwell Platinum is another of our top rated dispensers because of its minimal noise, durability and longevity. The 5 inches of free falling water tends to encourage cats to drink more water. The submersible motor is a plus and the special pre-filter helps avoid the frustration of clogging by removing hair and dirt.
Minimal noise interruption
Very appealing design
Pre-filter traps large particle before reaching the motor (a huge plus!)
Adjustable free flowing water stream
One of the most reliable models

---
3. Drinkwell Ceramic Pagoda
Our rank: 4.7/5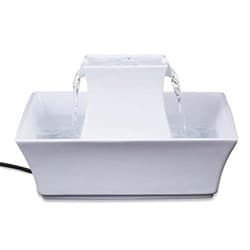 The Drinkwell Pagoda fountain is a beautiful looking dispenser that is quiet, easy to clean, and perfect for cats that have an allergy to plastic due to its lack of plastic in the drinking areas.  A large capacity holder and charcoal filter round off another top pick for ceramic water fountains.
Charcoal filters reduce odors and bad tastes
Multiple streams of water and levels for maximum drinking capacity
Great solution for cats with plastic allergies
Ideal for multiple cats at the same time
70 oz of water held in basin

---
Recommended Cat Water Dispensers (4.0 – 4.5 Stars)
While some people are willing to splurge a little more for a top of the line pet fountain for their cats, it's not always necessary and many of these dispensers we've listed below are still highly rated. They may not have as many features, but still tend to get the job of hydrating your furry friend as needed.
4. Drinkwell Multi-Tier Pet Fountain
Our rank: 4.3/5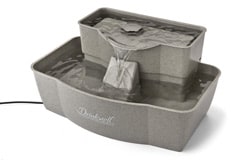 The Drinkwell Multi-Tier pet fountain offers a nice alternative option in the free-falling stream that cats tend to be attracted to. The water circulates rather well and is filtered by charcoal filters. With one of the larger water capacities and multiple levels, it does present as a great drinking option for multiple cats at once.
100 oz Water Capacity
Continuous free falling water stream
Easy and simple filter changes
Raised top bowl great for disabled and older cats
Great for multiple cat households

---
5. Drinkwell Zen Steel
Our rank: 4.3/5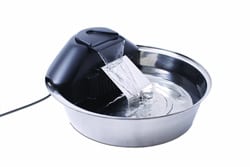 The Zen Steel water fountain for cats offers a monstrous 128 oz capacity and oxygenated, circulating water system that keeps the fresh water moving. This again tends to keep your cats interested in staying hydrated. The stainless steel bowl is very bacteria resistant unlike many of its counterparts and tends to be more hygienic than most other options.
Easily refillable 128 oz water holder
Stainless steel bowl is a healthy option for your cat
Great for larger cats because of bowl size
Filters out cat hair/dirty to prevent clogging

---
6. Pioneer Pet Big Max Stainless Steel
Our rank: 4.2/5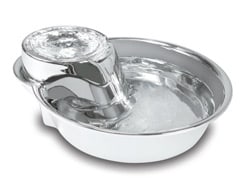 The Pioneer Pet Big Max cat fountain consists of a heavy duty multi-level design. Cats can drink out of both tiers and the stainless steel keeps the water fresh and resistant to forming bacteria in short time periods.  One of the quietest fountains we've tested and large capacity make this an excellent option for your cat.
Large 128 oz water capactiy
Extremely quiet fountain
Elegant looking design
Simple to clean and stainless steel bowl prevents bacteria from forming

---
7. Drinkwell 360 128oz
Our rank: 4.1/5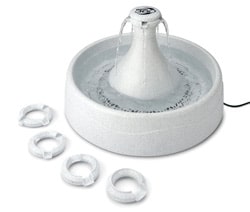 The enticing constantly circulating water in the Drinkwell 360 Cat Fountain tends to make your cat drink more often. The 360 degree design with free falling water from all sides makes it suitable for a multi-cat household. The water streams are completely customizable and come with different spout rings to adjust as needed for your furry one.
128 oz water capacity
Ideal for multiple cats at the same time
Included spout rings can change to 5 different water streams
Charcoal filters keep water fresh and odorless

---
8. Cat Mate Pet Water Dispenser
Our rank: 4.0/5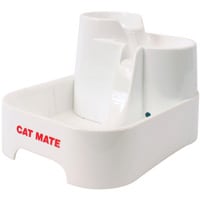 A unique multi-level design attracts cats to the Cat Mate Pet Fountain. This product is definitely one of the quieter ones and flows evenly for constant fresh water. The water flow speed can be adjusted to your cat's choosing and the fountain flow doesn't splash quite like many other similar fountains.
Extremely quiet when in use
Charcoal filter for keeping water fresh
Smaller size, fits easily into corners of the room
No mess, no frills makes it an ideal and simple choice

---
Cat Fountains for Specific Needs (3.5 – 3.9 stars)
Here you'll find some other dispenser options we've taken the time to do reviews for, but seem to have a flaw here or there that couldn't quite get them above the 4.0 star rating. That being said some may work for cat owners with specific needs or specific price ranges.
9. Petmate Fresh Flow 108 oz
Our rank: 3.9/5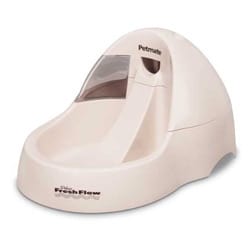 The Petmate Fresh Flow features a submersible pump which keeps this unit relatively quiet.  The water slide design allows for cats that tend to be a little more afraid of running water to confront their fears easier. Although not a great feeder for multiple cats, it is a solid starter pick.
Submersible quiet pump
Water slide design helps cats that are afraid of running water
Great value for the price

---
10. Pioneer Pet Raindrop Oval Stainless Steel
Our rank: 3.7/5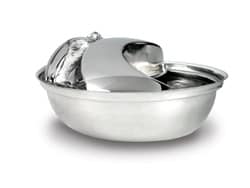 An elegant looking pet fountain with a smaller 60 oz water capacity is a good starter product. The design allows for minimal splashing and maximum water circulation, and charcoal filters ensure the water stays fresh and clean.
Best used for one cat
Replaceable charcoal filter keeps water fresh
Great for cats with plastic allergies because of the stainless steel design
Steady flow and minimal splashing

---
11. Drinkwell Original 50 oz Pet Fountain
Our rank: 3.5/5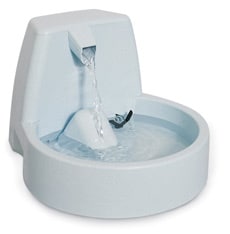 Although this water fountain is simple and easy to set up, the capacity is minimal at 50oz. The Original 50 oz Pet fountain does have replaceable charcoal filters and offers a 5 inch falling water system, which constantly circulates water.  Although it lacks in some features, the price point cannot be beat.
Great value
Simple setup process
Replaceable charcoal filter keeps water fresh
Often comes with extra reservoir to increase capacity if needed

---
The cheapest Gravity Water Dispensers
Not everyone needs a fancy cat water fountain with fresh water circulation features. If you're in the market for a low budget water dispenser that gets the simple job done of keeping your cat hydrated with water for a few days without refilling the bowl, then these dispensers are right for you.
12. Petmate Pet Cafe Pet Waterer 3/4 Gallon
Our rank: 3.3/5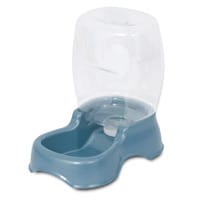 Under $10 price point
Easy to Clean
Dispenses water only when refill needed
Can go 5-8 days before needing a refill

---
13. Bergan Petite Gourmet Waterer 1.5 Gallon
Our rank: 3.2/5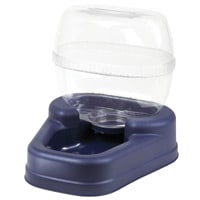 Under $20 price point
1.5 Gallons allows for many days of water without a refill
Wide reservoir for easy drinking
Can be easily cleaned and refilled
Water drops by gravity controlled system

---
Comparison Table
We summarized the products above and added them into this table. So Here you have a comparison of the best water dispensers for cats on the market:
Cat Water Fountain
Features
Water Capacity
Multiple Cats?
Price Range
Our Rating
1. Drinkwell Avalon

Durable Ceramic
Charcoal filters
Multi-level design

70 oz
Yes
$$
4.9
2. Drinkwell Platinum

Very quiet
Eye catching design
Pre-filter traps large particles
Adjustable stream

128 oz
No
$
4.8
3. Drinkwell Ceramic

Great for cats with plastic allergies
Charcoal filters
Multiple water streams

70 oz
Yes
$$
4.7
4. Drinkwell Multi-Tier

Continuous water stream
Two levels
Useful for older cats

100 oz
Yes
$
4.3
5. Drinkwell Zen Steel

Stainless steel bowl
Impeccable filtering

128 oz
Yes
$$
4.3
6. Pioneer Pet Big Max

Minimal noise factor
Very aesthetic design
Simple to clean

128 oz
Yes
$$
4.2
7. Drinkwell 360

Change water streams with included rings
Charcoal filtering

128 oz
Yes
$
4.1
8. Cat Mate

Smaller in size for less obtrusion
Quiet, and no mess

70 oz
No
$
4.0
Video: Auto pet fountains in action
The Benefits of Pet Water Dispensers
Some may wonder why to even consider buying a fountain at all for your furry one. Why not just fill up a water bowl for them to drink out of? It's a luxury, but it's a time saver. The real answer to this question really lies with the cat and its owner. For some it may not be necessary, but for others that want to save some time and keep their cats hydrated, it may be a plausible solution for both.
Have you ever noticed how cats instinctually gravitate towards running water sources such as faucets? This is a common occurrence in felines and one that seems to have many theories behind it:
Cats have fantastic peripheral vision and are better at noticing movement, such as running water
Cats seem to enjoy the taste of the running water more than bowls of still water and may also believe it's safer to drink
Not only do cats seem to prefer the running water aspect, but many other benefits seem to take precedence for not only the cat, but its owner:
The dispensers filter and recirculate water, leaving the water fresh and safer to consume than a bowl that may collect bacteria over time
A cat's sense of smell is very powerful and they can easily notice the fresh tasting water from a running fountain
You don't have to worry about filling up your cat's bowl every couple days
Intake of water is very important for a cat to avoid dehydration. The running water in a fountain will encourage drinking more and avoid any unnecessary vet bills
If you care deeply about the health and well being of your feline friend, the benefits of investing in a cat fountain for them seem to far outweigh any cons.
Final Words
Please note that these cat water fountain reviews are here to serve as a guide in making the right decision for your cat. Make sure to consider all of the options presented.
Remember that only you know how your cat reacts to certain stimulation so make sure to take this into consideration when picking the right cat water fountain for your furry loved one.