The
10 Best Automatic Cat Litter Box Reviews 2017
Are you sick and tired of cleaning up after your cats?
Be honest! If you're like almost every other cat owner out there, a time comes when cleaning up after your cat isn't on your list of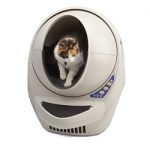 priorities. Life just gets too busy and taking the time to scoop out your pet's waste becomes a hassle every few days.
Introducing automatic litter boxes! No more scooping. No more wasting time! We've compared reviews and found the which is the best self cleaning litter box on the market below.
Check out our comparison table below and click on any of the model names for our more detailed review!
Best Self-Cleaning Litter Box Reviews 2017 - Comparison Table

Automatic Litter Box

Features


For Multiple Cats?

Retail Price


Rating out of 5

Rotating & Self-Cleaning Mechanism. Top Notch Quality, night light, and limits odors


Yes

$$$

4.85 out of 5

​

2. Scoopfree Ultra

Rake system great at reducing odors by using blue crystal litter. Tray disposal system. Cover optional.

Yes

$

4.7 out of 5

Self-Flushing & Self Washing. Hooks up to cold water line for maximum cleanliness.


Yes

$$

4.65 out of 5

Rotating & Self-Cleaning. Weight activated sensor for your cat and patented sifting process.


Yes

$$$

4.6 out of 5

Simple rake disposal system with carbon odor filters.


Yes

$

3.7 out of 5

Large waste space for multiple cats, paw cleaning ramp and odor removing carbon filters

Yes

$

3.6 out of 5

High functioning odor removal system with continuous cleaning cycle

Yes

$

3.5 out of 5

Simple auto setup that removes odors and is quiet.

Yes

$

3.4 out of 5

Rake system with sleep timer - simple features


No

$$

3.4 out of 5

Simple system with no motorized pieces - comes in at low price but limited capabilities


No

$

3.0 out of 5

Questions to Consider Before Buying
Self-cleaning cat litter boxes save time and much more. As such, you'll find an investment is needed to benefit from the convenience of this device. Cat owners will want to think about a few things before making the purchase such as:
Is this a litter box for multiple cats or just one?
What size is your cat? Are they large or just kittens?

What kind of budget do you have?
Do you want to pay a little more for a fully automatic model, or can you spare some of the fancy features to save a dollar or two?
How much space do you have and where will you put it?
Does your cat have any odd habits/quirks when using its litter box?
Make sure to take all of these points into consideration before going all in. Every feline and cat owner is different. We all have different needs. So it's important to realize which features will work for your pet's situation and which ones won't.
---
Top 10 Automatic Litter Boxes: Features, Instructions, Advantages, and Review Ratings
1.
Litter-Robot III Open Air
(4.85/5)
Dimensions: 26.8" x 24.4" x 29.1"
If you're looking to buy the best self-cleaning litter box on the market, then you're looking for the Litter Robot III. This device is an open-air model designed to take all the effort away from cleaning up after your cat. It truly is an "automatic" cat litter box in every sense of the word.
The Litter Robot III features a sturdy design that's sure to please all of your furry friends. The unique designs offer great privacy for any kitty trying to do its business. Plus, there's a number of high-tech features sure to keep cat owners and furballs happy.
Perfect for cats of every size
Fully self-cleaning. You'll never scoop again!
Best Litter Box for multiple cats
Wide range of customizable control features
Has a Night Light (NEW FOR 2017!)

18 Month Warranty included
90 Day Money back Guarantee
GET $25 OFF AT CHECKOUT BY CLICKING THE BUTTON BELOW

How the Litter Robot III Works (Our Video Review):

2. Scoopfree Ultra
(4.7/5)

Dimensions: 27.4" x 19" x 7"
One of the top automated boxes at a lower price point, the Scoopfree Ultra does an incredible job of managing smells from urine and waste. Simple functionality like the slide in tray replacement and an automatic raking features ensures excellent hygiene for cats and owners alike.
This device is ideal for one to two cat households. You can also buy a version that includes a mat to avoid tracking litter around.
Odor-reducing blue crystals ensure no smells
Clumping Litter is automatically cleaned with raking feature
Unique tray disposal system works well
Great for 1-2 cat households, but no more than that

Simple assembly and setup
Check out how this model works:

How to Use: This model operates with a large rake, carbon filters, and a sealed waste receptacle. Using a timer, the cleaning features beginning after your furry friend leaves the box. All waste ends up in the sealed receptacle, while the carbon filters remove all odors from the room.
3. Cat Genie 120
(4.65/5)

Dimensions: 24.5" x 19.2" x 21"
A truly automatic model, the Cat Genie 120 is great for the hands off cat owner with little time for maintenance. Using a washable litter that never needs to be changed, the unit is cleaned automatically when it needs to be. While the device requires a cold water line hook up, it is an amazing choice for cat households up to three cats.
Fully automated
Incredibly easy setup
High quality materials & long lasting
Wide range of control settings for cat owners
Perfect for multi-cat households
How to Use: Install this cat toilet in a bathroom where you can hook it up to cold water and electricity. A self-flushing cat box, the CatGenie works alone. Once you have it set up, you don't have to do anything except replace the cartridges and granules every so often.
4. Litter-Robot II Bubble
(4.6/5)

Dimensions: 24" x 22" x 29"
Another incredible self-cleaning litter box, the Litter Robot II Bubble Unit is well designed and unique. Cat owners looking for a durable and odor controlling model often love this device. With a large waste bin, this device is perfectly designed for travelers who are away from their feline for several days at a time.
Easy to get rid of waste
Long-lasting
No assembly required
Carbon filter eliminates smells
Ideal for large cats
Patented sifting technology
How to Use: When using the LRII, the weight-activated sensor can detect the moment your cat enters the box. Once this occurs, a seven-minute cycle begins, and the globe starts to rotate in order to sift the clumps and litter. Once this happens, the waste is deposited into a large drawer.
5. Pet Zone Smart Scoop
(3.7/5)

Dimensions: 26.5" x 16.9" x 7.6"
An amazing budget option, the PetZone Smart Scoop keeps your cat's litter fresh all the time. With a simple waste disposal process, this device is low maintenance. Carbon filters ensure odor is controlled when using this unit. A great budget option, the Smart Scoop is one of the best auto litter boxes for under $100.
Litter is never wasted
Incredibly quiet model
Simple to dispose of waste
Perfect for multi-cat households
Easy on your budget
How to Use: Considered to be best for cat owners with multiple felines, this box cleans itself and utilizes a smart sensor. Once a cat enters, the device starts counting down. After 15 minutes, a scoop and motorized rake run.
Pet Zone Smart Scoop Full Review

6. Littermaid LM980 Mega
(3.6/5)
​
Dimensions: 26.5" x 16.9" x 7.6"
The ideal low-priced option for multi-cat households, the Littermaid LM980 Mega offers plenty of space and features. Many cat owners appreciate the paw cleaning ramp that ensures litter stays in the box and off the floor. With an efficient and hygienic waster removal system, this product is a great value.
Large litter area
Perfect for multi-cat households
Carbon filters remove odors
Paw cleaning ramp keeps litter in box
Incredible value
7. PetSafe Simply Clean
(3.5/5)
Dimensions: 26" x 19" x 10"
Another great budget option, the PetSafe Simply Clean has become a cult favorite for those looking for low-maintenance and high functionality. A quick and easy self cleaning process keeps this device quiet while significantly reducing the amount of scooping cat owners experience.
Best odor removing system
Simple assembly and setup process
Litter saving unit
Continuous cleaning
Great value
How to Use: Once your kitty's waste hits this box, it's sifted through and moves up the continuous conveyor belt system. At the top, the waste is dispensed into the waste container.
8. Littermaid LM580 Classic
(3.4/5)
Dimensions: 17.2" x 9.3" x 24.3"
An incredible automatic litter box for smaller cats, the Littermaid LM580 Classic offers consistent functionality and simplicity. This box was created with functionality in mind. Many cat owners find themselves scooping much less when using this unit. Most agree the quiet operation when using this box is a great benefit.
Simple assembly
Carbon filters remove odors
Perfect for one small cat
Quiet operation
Good value (typically under $100)
How to Use: A simple product, the LM 580 automatically rakes your cat's waste into a receptacle that is disposable. The receptacle features a carbon filter that removes odors. Then you dispose of the receptacle when it's filled up.
9.
Nature's Miracle Single Cat
(3.4/5)
Nature's Miracle Single Cat Litter Box is a good option for cat owners looking for a well-priced and affordable model. Offering great functionality and an innovative sleep time for small homes and apartments, the device does its job well. The large waste receptacle ensures little maintenance for cat owners.
Useful paw cleaning ramp
Odor removal through carbon filters
Good value for price
Useful sleep timer
Good for one cat
10.
Catit Design SmartSift Sifting Cat Pan
(3.0/5)
Dimensions: 26.6" x 19.3" x 18.5"
The SmartSift by Catit Design is an innovative auto litter box that ensures you've never worry about cat litter box maintenance again. Utilizing a pull to refresh system, you just yank the lever one time, and the box is rid of waste.
No motorized pieces
Cheap litter box
Sealed to remove odors from the room
Perfect for cats of all sizes
Automatic litter sifting cat box
Litter is automatically scooped when the lever is pulled
How to Use: once the box is set up, you simply pull the lever and activate the sifting process. This quiet, seamless event rapidly sifts through the litter and removes all the waste from the box.
---
Reasons Why You Should Own One
Just like no two cats are the same, no two cat owners are the same. We all have different reasons for buying an automatic litter box. Some people hate the thought of cleaning out your cat's waste. Other simply don't have time.
Through conversations with cat owners and individuals who have purchased one of these litter boxes, we found three main reasons why people buy one of these upscale pet products.
Most of the time our furry friends lounge around enjoying the creature comforts they can get their paws on. They don't ask for much. Some food, love and a soft spot to sprawl out is all that felines usually require. Well, and a litter box. By providing your cat an automatic one instead of a regular one, you supply a better smelling and cleaner environment for him or her.
According to PetMD, some cats just don't like their litter box accommodations. In human's terms, this means using the bathroom in your home compared to a Port-a-Potty.
Not only will your cat love the luxury one of these provides, but they can also save you significant time. You don't have time to spend scooping out litter boxes every single day. By utilizing the automated features, you'll only be throwing away a trash bag of litter once in a blue moon. And scooping will be a thing of the past!
Due to the elimination of scooping, you won't ever have to actually come into contact with the litter ever. The box will continually be cleaner. You won't have to worry about bad odors creeping through your home or upsetting your cat. No more urine soaked clay will be left behind in the litter box, either.
Our Final Thoughts

You can't go wrong with any of the litter boxes mentioned above. If you're looking to reduce odors and eliminate scooping – then one of the devices we reviewed may be just what the doctor or veterinarian ordered.
Make sure to do your research when you decide to purchase one. Read some reviews, decide what features are most important to you and make an educated decision. We've detailed everything you'd ever need to know about these awesome devices to ensure you make the best choice for your furry friend and your household.