The Best Automatic Cat Feeder Reviews of 2022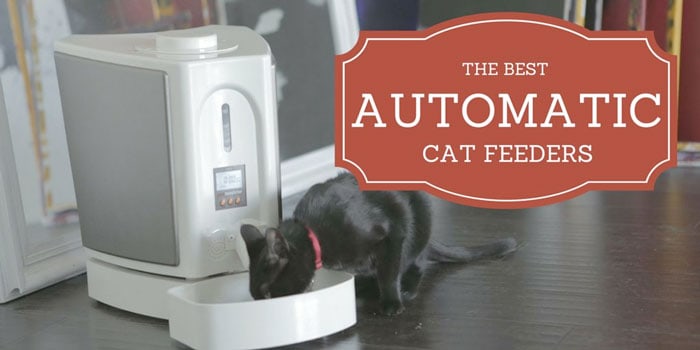 An automatic cat feeder can save a pet owner time, money, and worry.  Don't you want to feel relieved knowing your cat is getting fed when you're away? That's why we've tested and compiled in depth reviews of the best automatic cat feeders (For Both Wet & Dry Food) on the market today to make the decision of purchasing one a little bit easier. So Let's get started!
Last update: September 20, 2023
The 15 Best Automatic Cat Feeder Reviews of 2022
Is a timed cat feeder necessary?
Choosing a food dispenser with a timer is definitely something you'll want to consider. Are you planning on refilling the feeder once a day, or once every couple weeks? Do you want your cat to eat 3 times a day or 5 times a day? Do you need a digital or analog timer?
Think about these questions before considering the next steps towards purchasing one.
And once you have, here's reviews of the best rated automatic cat feeders:
1. Petsafe Healthy Pet Simply Feed
Our rank: 4.8/5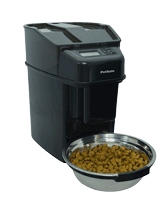 One of the newer automated feeders on the market packs a punch when it comes to programming options. If you're looking for one that can put your cat on a diet quickly and easily, then the Petsafe Healthy Pet is the one for you. Its portion control is perfectly measured and easy to monitor.
Largest range of portion sizes available
Intuitive slow feed option ensures your cat doesn't inhale its food
Large 24 cup food hopper
Well contructed and tamper proof design
Ability to dispense dry food up to 12 times per day

Read our Petsafe Simply Feed Full Review
---
2. Pet Feedster PF-10 CAT Automatic Feeder
Our rank: 4.7/5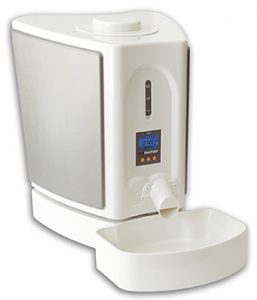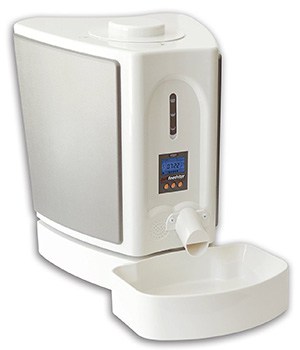 Ranked as one of our top automatic cat food dispensers on the market, you really can't go wrong with the Pet Feedster PF-10.  You can ensure yourself peace of mind knowing that your cat will be fed on a systematic schedule with this timed cat food dispenser.  Accuracy and durability are the two best characteristics of this timed feeder and for that reason it gets our #1 auto cat feeder ranking for 2016.
Incredibly reliable with backup battery and power options
Smart cat proof – you won't have to worry about your cat breaking into it!
Controlling portions has never been easier
Easy programming with quality LCD screen and customization
Fantastic for feeding multiple cats in one household
Can hold up to 10 pounds of food before needing a refill
Easily the best dry food cat feeder available

---
3. Super Feeder CSF-3 with Digital Timer
Our rank: 4.5/5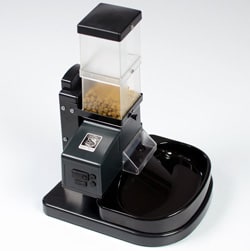 There are only a few dispensers we've selected that are smart cat resistant and this is one of them.  There are several innovative features on this intuitively programmed feeder, and it's definitely been one of our top timed cat feeders for dry food the past couple years.
Packs a ton of features into one
Resistant to smart cats that break into feeders
Ideal for feeding 2 cats or more
Easily programmable with digital timer
Can be used for long periods of time while away
Very reliable and never clogs

---
Microchip Cat Feeders: What's the Deal?
While some people prefer timed pet feeders, others just want a reliable one that only opens for specific pets. You don't want your dog or baby accidentally getting into the cat kibble bowl, so that's what microchip feeders are for. Either implanted or worn around the collar, these feeders sense the chip when it's nearby and only open when your cat is in the vicinity.
Here's some of the best that have this functionality:
4. Wireless Whiskers Autodiet Cat Feeder
Our rank: 4.5/5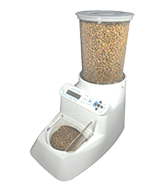 The Wireless Whiskers feeder is another great microchip controlled feeder that will only open upon your cat's chipped collar being near the feeder. Strictly meant for cats on diets, this food dispenser definitely works well for portion control and keeping your feline at a healthy weight.
An advanced and intelligent feeder
Only opens food tray to cat wearing wireless tag on collar
Keeps dogs and other pets out of your cat's food
Greets your pet by name when the feeder opens
Great for portion control and pets that need to lose weight.

---
5. Sureflap Surefeed Microchip Pet Feeder
Our rank: 4.3/5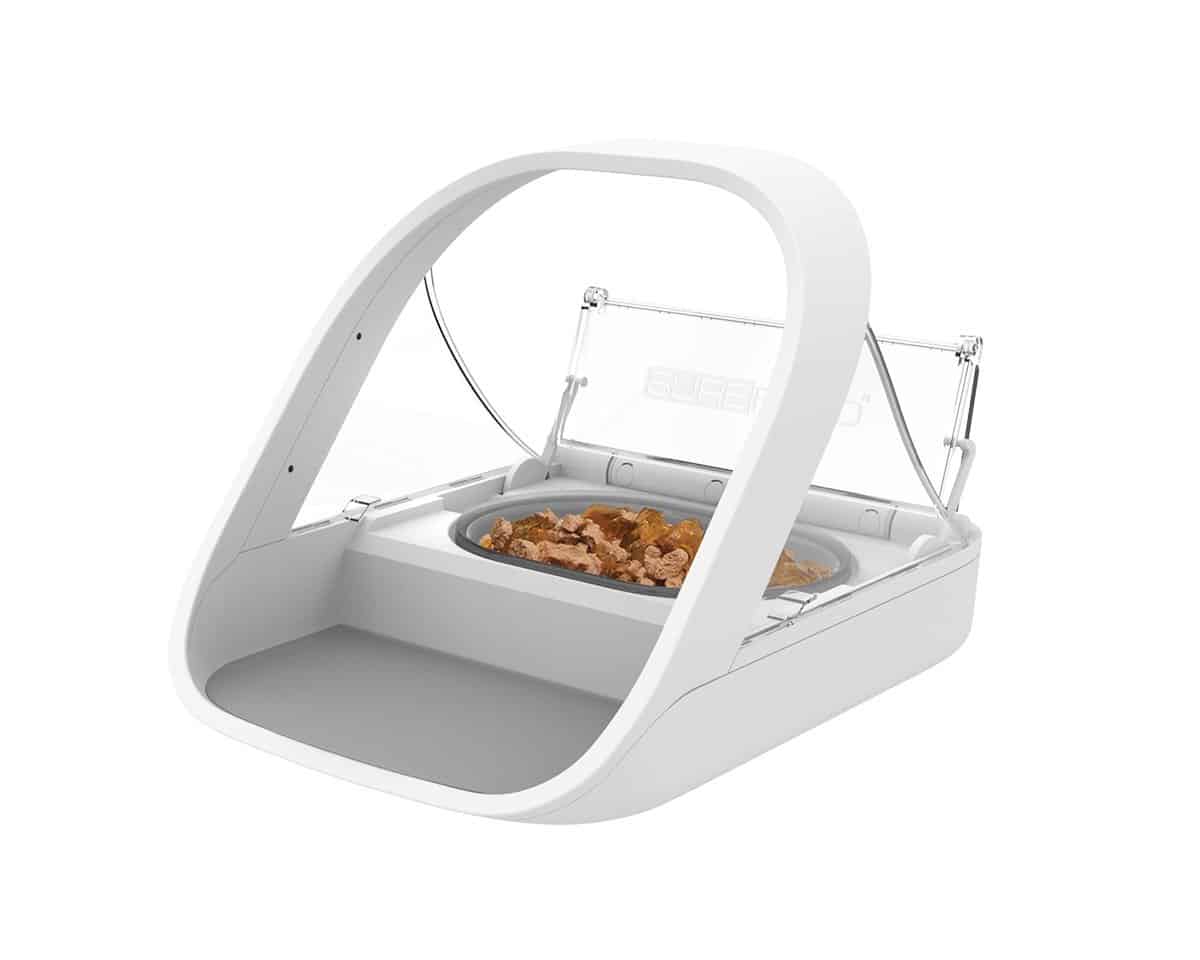 One of the only top rated electronic feeders with RFID technology. The lid on the Surefeed always stays closed and locked until a cat who has a microchip in its body or in its collar comes near the dispenser. At that time, the lid mechanism will open and allow access. This is definitely one of the most advanced and reliable feeders of its kind on the market today.
Only works with RFID microchip technology
Can store up to 32 different microchips
Great for keeping dogs and other animals out of your fur's food
Great for cats on strict diets

---
Dispensers for Wet Food
Some owners only feed their furry ones wet food, and for this reason a wet food dispenser should be considered. Many of the feeders that hold dry food do not do well with wet food because of their dispensing actions or because there's nothing to ensure freshness.  Always consider one that can keep wet food as fresh as possible for as long as possible.
We've narrowed it down to three of the best wet food feeders below:
6. Cat Mate C50 5 Meal Feeder
Our rank: 4.0/5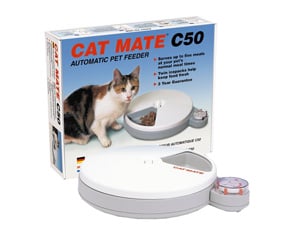 If you're looking for a dispenser that solely focuses on keeping wet food fresh, then the Cat Mate C50 is our top bet. The twin ice pack within the food compartment makes it possible to keep wet food moist for a long time. For a feeder under $100, you really can't beat it.
Serves up to 5 Meals
Twin ice pack allows for wet food to stay fresh
Good amount of food is held in each compartment
Battery level indicator is a nice feature to have
Has a 90 hour length program

---
7. Cat Mate C20
Our rank: 3.8/5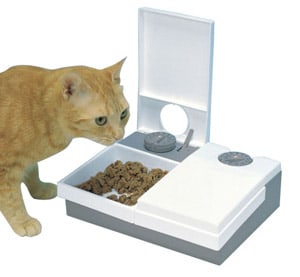 Although there isn't the option for many meals, this serves as a budget friendly 2nd option for a wet cat food dispenser:
Supports dry and moist food feeding
Duration of 48 hours for feeding cycle
Battery Operated
Designed to feed two cats at the same time
Keeps food fresh with ice packs under trays

---
8. Qpets 6 Meal LCD Auto Pet Feeder
Our rank: 3.6/5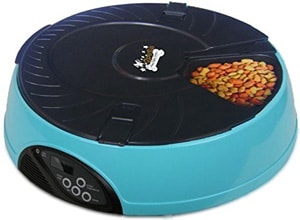 The Qpets is a 6 meal feeder that supports both dry and wet food. It's easily programmable and one of the most unique features is its personal message recording feature.
Snapping locks prevent smart cats from getting into food
Excellent for monitoring how much pets eat
Supports feeding of both dry and wet food
Can record personal message calling your pet to eat
Each tray is easily removable for cleaning

---
Gravity Pet Feeders: Simple & Affordable
Sometimes cat owners are just looking for a simple dispenser that works. If you don't need all the bells and whistles of digital timers and rotating meal compartments, a gravity feeder for your cat will be just perfect.  They won't break the bank and they'll get the job done right: Feeding your cat even if you're away from home.
Here's our gravity feeder picks after trying them out ourselves:
9. Petsafe Healthy Pet Food Station with Stainless Steel Bowl
Our rank: 3.9/5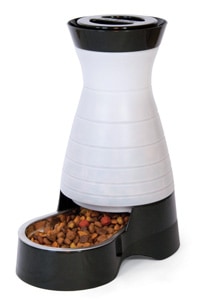 This gravity feeder not only provides an easy gravity food system but also comes with a removable stainless steel bowl. May cats are allergic to plastic and this safe alternative is the perfect option if your in the market for a feeder that covers both of these details.
Gravity only – No power outlet needed
Great for cats that are allergic to plastic
Ideal for feeding many cats at one time
Can go several days without refilling

---
10. Bergan Petite Gourmet Combo
Our rank: 3.2/5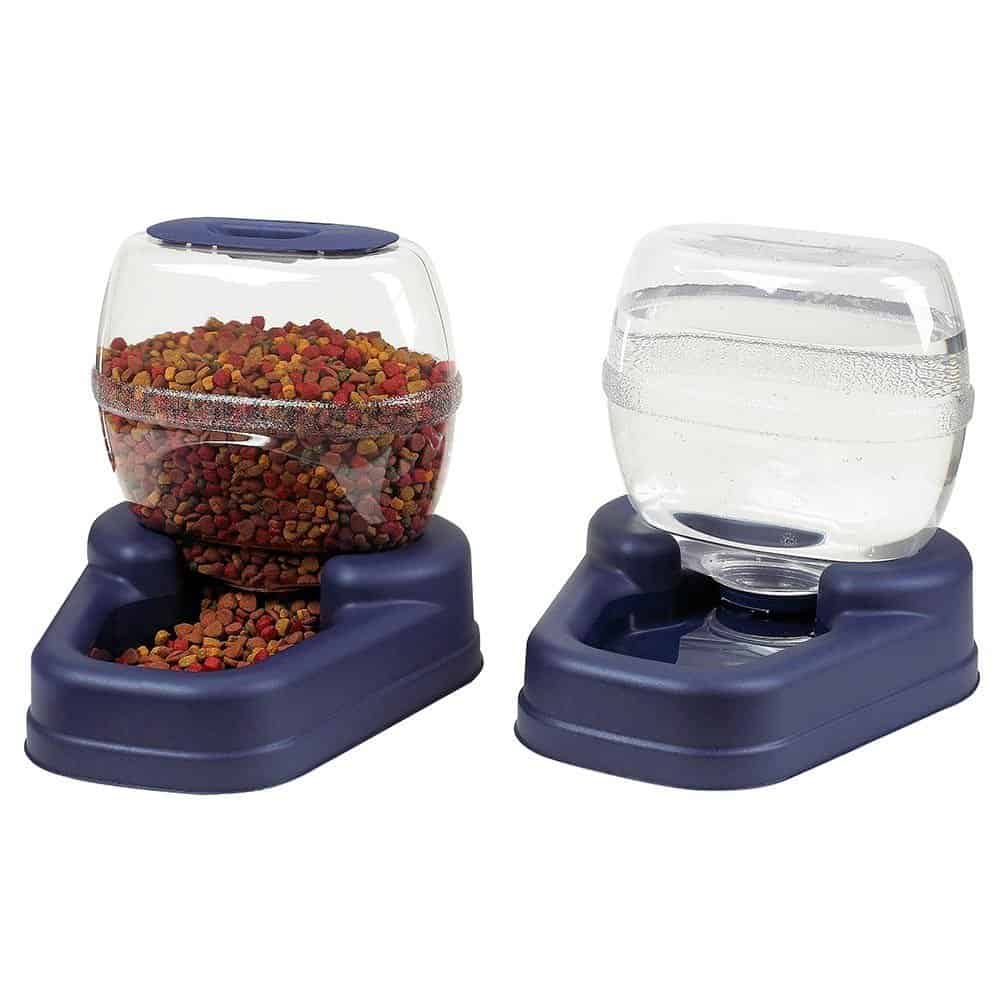 Best used for supplying multiple cats with food/water
Great for cats that are not on diets
Built for simplicity of use
Easy to clean since trays are removed with ease
Gravity feeder – no power needed

---
11. Bergan Travel Dispenser
Our rank: 3.5/5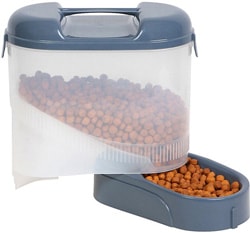 Although this feeder is simple, it's highly portable and easy to use. It is both a storage unit and a gravity feeder in one. You can easily control portions because of the adjustable base and keep food fresh for long lasting travel.
Portability for traveling is key
Very compact and lightweight
Airtight lid keeps food fresh
Holds a good amount of food – 5 pounds worth
Best price you'll find for a feeder

---
Honorable Mentions
Not all feeders are created equal. Some fit in multiple categories and some are just great at certain tasks. It's really going to depend on your situation. For that reason, we've included a number of honorable mentions that deserve a little recognition. All of these feeders are unique in their own ways and just might be a great fit for your household.
12. Petmate Portion Right Programmable Food Dispenser
Our rank: 3.3/5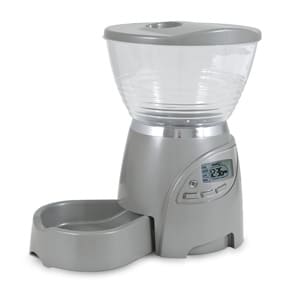 Holds 5 lbs of food – large storage hopper
Extremely easy to assemble
Great for cats on a diet that need specific portions set
Battery operated and portable
Budget Friendly

---
13. PetSafe 5 Meal Electronic Feeder
Our rank: 3.9/5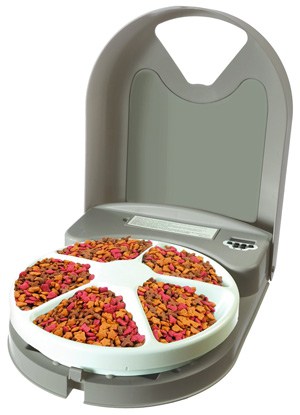 Dish feeder that serves 5 meals per day automatically
Easily programmable to set feeding schedules
Trays are protected and rotate for each meal
Great for cats on a diet and that need multiple meals per day
A smart cat feeder for a budget

---
14. Aspen Pet Le Bistro Portion-Control
Our rank: 3.8/5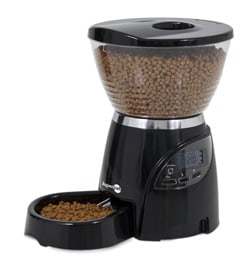 One of the quietest dispensing feeders
Lightweight/Portable
Rotating wheel anti-jamming mechanism proves very reliable
LCD screen counts meals and provides vital info to owners

---
15. MOTA Perfect Dinner
Our rank: 3.0/5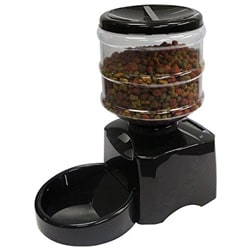 Simple programming with large LCD Panel
Great for feeding 2 or 3 cats
Easy to assemble – very few pieces
Large food capacity – up to 7 lbs
Removable hopper for cleaning and refilling

---
Best Automatic Cat Feeder Reviews 2018 Comparison Table
| Auto Cat Feeder | Capacity | Type of Food | Timer Type | Overall Rating |
| --- | --- | --- | --- | --- |
| 1. Petsafe Simply Feed | 24 cups | Dry Food | LCD Timer | 4.8 |
| 2. Pet Feedster | 10 lbs | Dry Food | Digital Timer | 4.7 |
| 3. Super Feeder | 5 lbs | Dry Food | Digital Timer | 4.5 |
| 4. Wireless Whiskers | 4 3/4 cups | Dry Food | Microchip | 4.5 |
| 5. Sureflap Surefeed | 2.5 cups | Wet & Dry Food | Microchip | 4.3 |
| 6. Cat Mate C50 | 3 1/3 lbs | Wet & Dry Food | Analog Timer | 4.0 |
What are the Benefits of an Automatic Food Dispenser?
Owning a cat is fun, rewarding, and also can be a fair amount of work. Relieving yourself of duties like emptying the litter box, filling up the water bowl, and most importantly, feeding your cat several times a day, has positives for both you and your pet.
You don't have to worry about your cat getting its fair share of food while you're away for periods of time. Whether you're on vacation or just at work longer than normal, it's calming to know that your furry one is still getting fed at home.
It's easy to set a feeding schedule with an automatic feeder with a timer. We can't always be precise with the times we feed our pets at. Sometimes we're running late for work and others we may just forget altogether. This allows you to set a down to the minute accurate feeding schedule so your cat always knows when to prepare for its next meal.
Your cat won't wake you up in the morning and demand food. Having one of these products makes them depend on the feeder and not on you. You won't have to hear loud MEOWs every morning before your alarm goes off and you'll be able to sleep peacefully.
You'll be able to control food portions. This is especially helpful if your feline is on a specific diet or has intake regulations as you won't have to get out the measuring cups every time you want to feed them. Whether you feed your feline wet food or dry food, you'll be covered either way.
It's easy to forget about these things when you see the price tag on some of these feeders. However, remember that although purchasing one may be a little bit of an investment, it's well worth it in the long run when you think about the time and headaches you'll save.
Questions to Ask Before Buying
There are so many different options to consider when purchasing a cat food dispenser. Ask yourself these questions about your furry friend before making the investment in one:
Is my cat smart enough to break into a feeder that isn't properly locked? If so, get one that is difficult to break into.
Is my cat obsessed with food? In this case, an automatic feeder that dishes out controlled portions is the best idea.
Will I be using this for extended periods of time while I am away or on vacation? If so, consider one that is hooked up to a power supply and supplies meals at intervals a few times daily as to not rid of all the food right away.
Am I on the move a lot and need something portable? If so, you may want to go with a battery operated or gravity dispenser.
Is my cat allergic to anything like plastic? If this is the case, look for a feeder that has a feeding bowl made of different materials.
Remember that every cat is different and each has their own unique traits. Take this into consideration when choosing the perfect automatic feeder for your cat. You know your cat's situation better than anyone else!
These automatic cat feeder reviews are here to help you make a decision on which feeder is right for you. We will be continually updating them as new feeders come onto the market throughout the year. Don't hesitate to reach out with questions in the comments below!
Keep your cat happy! Check out our reviews of self cleaning litter boxes and water fountains as well.​