Petsafe Healthy Pet Simply Feed Review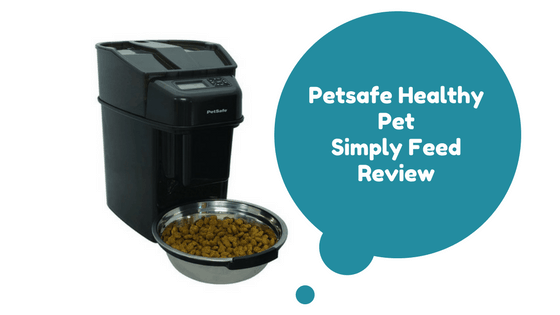 If you're looking for a fantastic automatic cat feeder that offers up to 12 meals per day, then the Petsafe Healthy Pet Simply Feed may be for you. Sourcing numerous customer reviews, we've found this device to be the top rated automatic cat feeder on the market. After testing, we're inclined to agree.
The Petsafe Healthy Pet Simply Feed allows full customization. From how many times a day your cats are fed to the portions and more – this is a set it and forget it type of feeder. The hopper can hold up to 24 cups of dry cat food at a time and offers transparency to ensure you can see how much food is left.
Unique Features
After testing, we've grown to love this cat feeder. The device works as it should, and all features function properly. Our cats love eating out of this model, and it didn't take long for them to adapt to it. Why? Because the Petsafe Healthy Pet Simply Feed offers a number of unique features that ensure easy use. Here are a few of our favorites: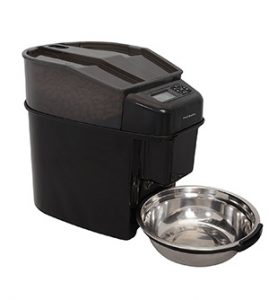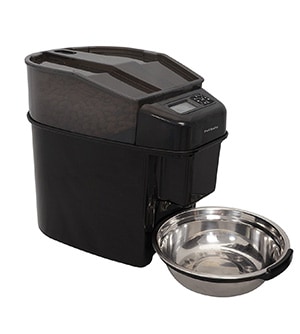 I'm not sure about you, but my cat Fozzie typically eats around 2-3 cups of food a day. She prefers to eat 3-5 times throughout the day. So I schedule this unit to dispense half a cup of food five different times each day. It's the perfect schedule, and she loves it. Plus, I only have to reload the hopper once every 9-10 days. Talk about little maintenance!
There are a variety of programming options on the Petsafe Healthy Pet Simply Feed. From portion control to feed schedule – everything is programmable. You can use the immediate feed, slow feed mode, and pause feed mode however you see fit. Any way you want to feed your cats can be programmed with this device.
Due to the unique design of this programmable feeder, your cats won't be able to steal any food from this feeder. You won't have to worry about pesky paws reaching into the hopper for food. Petsafe keeps your cats away from the food until it's time to eat.
This feeder comes almost fully configured. As such, the setup is incredibly easy. You won't be sitting around trying to piece this model together for awhile. Once it's out of the box, it's time for your furry friends to start eating.

What's Included?
Primary unit
User manual
Quick start guide
Stainless steel bowl
Plastic bowl holder
Product Dimensions
This is an averaged sized programmable pet feeder. Simply Feed weighs 6.5 lbs. and has dimensions of 13.3″ x 10.3″ x 15.8″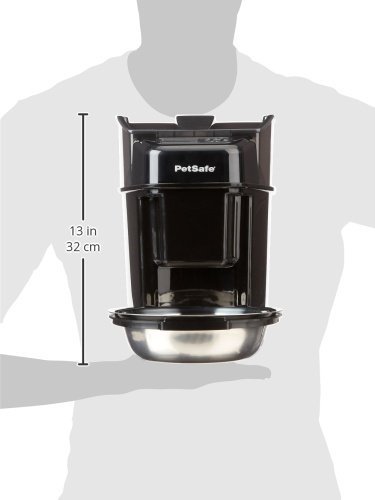 Pros
As a top rated automatic cat food dispenser, there's a lot to love with this model. Here are just a few of the things we really liked about it:
High-quality, durable materials
Long lasting feeder
Easily customizable
Great, simple portion control
Can hold up to 24 cups of food
Can dispense food sizes from 1/4th a cup to 4 full cups
Allows up to 12 scheduled feedings a day
Multiple feeding modes
Slow feed options allows cat owners to slowly feed their felines, which is perfect for cats who demolish any food in front of them
Pause feed allows you to cancel a meal or cut one off in the middle of dispensing, which is useful if the dog or the wrong cat is eating the food
Immediate feed allows you to dispense food when a cat is whiny and needs kibbles
Hopper is transparent
Stainless steel bowl that is dishwasher-friendly is included
Keeps pesky paws away from kibbles until it's time to eat
You won't lose programming if it stops working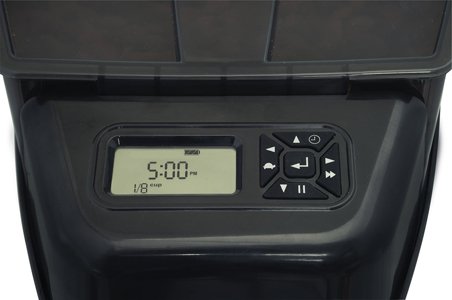 Cons
No AC adapter included
Can be noisy when the kibbles are dispensed
Bowl can be too deep for smaller cats
It can take cat owners a bit of time to figure out exactly how to program this unit, as it's not that easy
Verdict
If you're looking for an automatic cat food dispenser with all the programmable features, bells, and whistles – then the Petsafe Healthy Pet Simply Feed might be just what the vet ordered. This model offers everything a cat owner could need to keep their furry friends well fed and happy. Overall, we highly recommend this model.
4.8 out of 5 Stars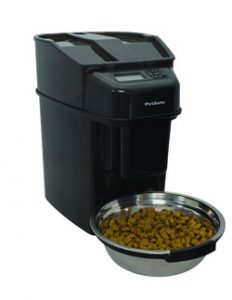 Not the right feeder for you? Check out our guide to the best automatic cat feeders that we reviewed.