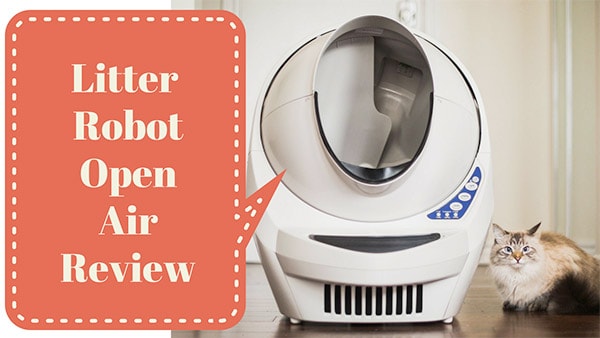 Litter Robot 3 Connect Review
Don't buy this item before you read a review from someone who actually purchased and used Litter Robot.
Just imagine…never cleaning your cat's litter box again. EVER. If that sounds like a lovely thought, then the Litter Robot Connect Open Air 3 may be just what the doctored ordered. A high-quality automatic cat box that's built well and doesn't require too much maintenance, this model fills all the needs of the busy cat owner looking to reduce chores.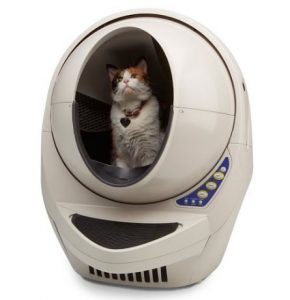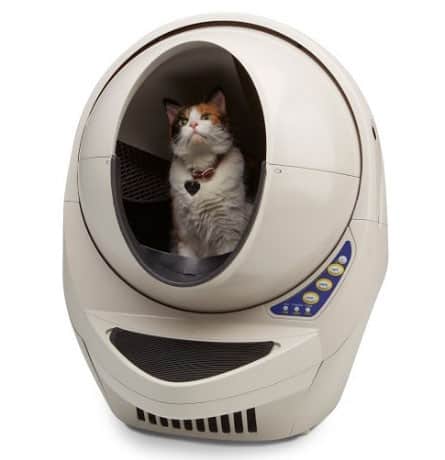 The litter box is ideal for cats of all sizes and multi-cat households. Your cat will be able to use the bathroom in this box, and you'll never have to see the waste. Plus, the box uses a unique globe feature that is almost silent while operating. One thing many users love is that the box comes fully assembled. There's no messing around with this model.
---
Our Video Review
Did our cat Fozzie like it? Let's find out….

Features
As our top rated self-cleaning cat litter box on the market, the Open Air is chalk full of great features. People love this box and for a good reason. This litter box does its job really, really well.
You could also write a whole book on all the features found here, but we wanted to lay out our top five unique features of this model. You'll find them below:
Do everything using your phone! view the waste drawer level, get notifications, troubleshoot, and see recent usage history for insights into your lovely cat's health.
If you're looking for an automatic cat litter box that just works, then the Open Air is for you. Everything in this box is automatic. When you cat steps in the Open Air III, there's a sensor that automatically stops any cleaning and lets your cat take care of business. Once you cat exits, the box automatically begins cleaning again. Then the waste is automatically disposed of in a storage area.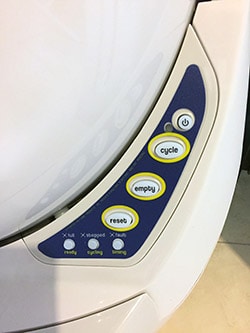 Many automatic litter boxes do a good job. There's only one problem: they aren't made for cats of all sizes and certainly cannot handle multi-cat households. The Litter Robot changed all that. Not only does it do its job well, but the unit is designed for large breed cats and multi-cat households. This thing can take anything your furry friends can throw its way.
Well, it's more like no setup at all. This unit comes fully assembled. You legitimately take the thing out of the box and plug it in. Your cats can now use the litter box without worry. It really doesn't get easier from a setup standpoint than this.
My personal favorite thing about the Litter Robot Open Air III is the once a week maintenance I have to do. Once a week, I have to open the secluded waste container and switch the bags. Then I take the bag into the garage and throw it away. The whole process takes two minutes. Then I'm done dealing with the litter box for another seven days. It's that EASY. There's no changing of litter require or anything.
I was a bit skeptical that my furry friends would like this unit. The design is entirely different, and I was concerned I'd have to train my cats to actually use this automatic litter box. That all changed the second day the device was in my house. My cats immediately adapted to this unit and started using it. They loved it from the outset and we haven't had any issues adjusting at all.
Pros
While this automatic litter box is a little pricey, there's a ton to love about it. It was almost painful to cut the long list of things we liked down for this Litter Robot Open Air III review. But we did it. So here are just of few of the many things we loved about this device:
Completely controls bad odors coming from cat waste. You won't have to worry about smells here
Super reliable. This thing just works
High-quality and incredibly durable
Almost entirely silent operation. Perfect to keep in bedrooms or other quiet areas if needed
Full 90-day money back guarantee and 18-month warranty policy
The best box for multi-cat households and large breed cats
Simple setup and easy operation
Drawer full indication. You'll never have to wonder if the waste area is full or not
Simple, adjustable cleaning cycles allows you to set how long before the box starts cleaning
LED night light ensures your cats can see while using the box in the dark
Sleep mode ensures the box doesn't clean for eight hours
Huge litter chamber for large cats
Big entryway allows entry to felines of all sizes
Easy to use control panel
You'll have as little contact with your cat's waste as humanly possible
You'll save over 50% on litter with this box
Cons

No automatic litter box is perfect, especially as we all have different needs. While the Litter Robot comes pretty close, it's not perfect, either. Here are a few things we didn't love about this device:
Huge litter box. You'll need a decent storage space for this one
Heavy design is hard to move around
Specific litter needed in the box can be difficult to determine
This box is one of the pricier ones we've tested
Cats sometimes end up hanging out in the box instead of relieving themselves and leaving. Our cat, Fozzie, did it a few times…
Verdict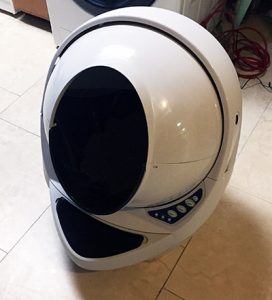 We've tested a lot of litter boxes over the last couple years. None of them are perfect. Each device has its own unique set of issues and problems. However, we've found that the Litter Robot Open Air III is the best automatic cat litter box on the market. Bar none!
This litter box just works. Everything the manufacturer says this box can do, it does well. If you're looking to avoid contact with cat waste as much as possible, then this is the box for you. Not only will it save your from nasty smells, but you'll also not have to waste any time changing the litter box. It's truly a win-win for cat owners!
Our Final Rank: 4.85/5

*Limited time offer
*You will get the $25 deducted on the Check out screen