Aspen Pet Le Bistro Portion-Control Automatic Pet Feeder Review
The Aspen Pet Le Bistro Portion-Control Automatic Pet Feeder is a great feeding option for your beloved furry one. This is especially true for more hefty cats. If you have noticed that your cat has been gaining more weight than usual, then it is important to make a change in the way that you feed your pet. This feeder allows your cat to have the consistency in their diet that is needed to stay healthy and happy.
Features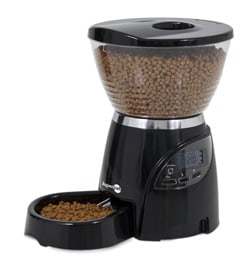 The instructions for this feeder are fairly easy to follow to ensure that your pet will be fed at scheduled feeding times throughout the day. Controlled food portions are programmable up to 3 times per day. The hopper can hold up to 5 pounds of food, so you can easily leave the pet with a reliable meal schedule for a weekend out of town.
The feeding bowl does come off for easy cleaning which is definitely a plus. Although you do need batteries for this model, they seem to last for six months at a time according to many users.
Pros and Cons of the Aspen Le Bistro
Pros
One of the quieter feeders when dispensing
Easily programmable/Instructions easy to follow
Transportable – lightweight at only 5 pounds
Anti-jamming mechanism with rotating wheel dispensing
Counts number of meals on LCD screen so you know how many times pet has been fed
Great price for what you get
Cons
Not cat proof – some have figured out how to get paws in chute to remove more food
Only uses batteries
Large minimum portion size of 1/4 cup – portion size not always accurate either
Recommendations for Use
Although the instructions are fairly clear and easy to understand, make sure you complete everything that is required to set this product up. This includes setting the clock, feeding times and meal counters.
Verdict and Rating

All in all this is a great automatic food dispenser and anyone who owns a cat would be happy to use one. For the money you really can't beat this product as it is very similar in features to others like the Pet Feedster, but at a fraction of the cost. Yes there are some drawbacks such as battery operation and sometimes won't work for the brightest of cats, but there are easy solutions to that. Overall, if you're on a budget and want something reliable this may be the way to go.
Customer Rating: 3.5 out of 5 Stars