Bergan Travel Cat Feeder Review
The Bergan Travel Pet Feeder has been highly regarded as an "innovative gravity feeder". It is uniquely designed for ease of feeding your cat while traveling. For those who often do those long road trips and take their pets along, this feeder particularly useful.
Features
This feeder is a storage unit and automatic feeder in one. It comes equipped with a lid that snaps on and an adjustable rotating base which allows you to uncover the food when it is feeding time, and rotate it close after. Due to the fact that the base which holds the food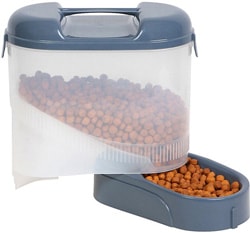 is adjustable, you can control portions by opening the base to the amount of food you want to make available. When the base is open, the feed bowl is filled by means of the Auto-Flow gravity feeding system – hence, why the feeder has been dubbed an "innovative gravity feeder". The ability to seal the feeding base by rotating it inwards ensures that the feed is kept fresh.
The lid of the feeder has a handle, which allows for ease of carrying but does not impede the opening of the lid itself. The lid covers a large opening through which it is extremely ease to pour the pet feed. This storage section of the Bergan Travel Pet Feeder is able to hold up to 5 pounds of food. (around 24 cups)
The actual dimensions of the feeder are 13"x 12" x 12" inches which make it small enough to be carried around with ease and easily stored, but large enough to fit adequate feed for an extended road trip.
Keeping your pet's feeding bowl clean is also of great importance, something you do not have to worry about with this travel pet feeder. The bowl is removable and so you can rinse it out quickly replace it and be on your way. Additionally, because it rotates close after it feed, it is not open to other airborne contaminants; therefore, you can feed your pet throughout the day and give the bowl a proper rinse whenever you stop for a break in your trip.
A big plus to the physical composition of the feeder is that it does not contain Bisphenol A (BPA) – an industrial plastic used for most food storage containers. BPA has been proven relatively harmless by many FDA studies, however, some still doubt its security. No need to worry about that with the Bergan Travel Pet Feeder as it is both BPA free and FDA compliant.
Pros and Cons of Bergan Travel Feeder
Pros
Very compact – and combines both pet feeder and food storage in one unit
Due to the amount of food it can store (5 pounds), it can keep your pet fed for weeks.
Auto fills the bowl with the auto-flow gravity system – no manual refilling
The lid is airtight and the fact that the feeding bowl can rotate to close keeps food free of external elements when it is not being used.
It is portable and easy to travel with.
It can serve a triple purpose: indoors, outdoors as well as while traveling.
The handle on the lid makes carrying the feeder super easy
Cons
The only way to regulate the amount of food your pet eats is by adjusting how far the feeder bowl is opened. However, due to the gravity system, food will continue to flow into the bowl as food is taken out.
If your pet has a tendency of over eating, then this feeder will not help to curb its habits
The feeding bowl is a bit small.
This feeder is only good for medium or small sized pets.
Recommendations for Use
This feeder is best used with triangular shaped or larger pet feed; the smaller feeds along with the gravity system can cause your pet to severely over eat.
Though the feeder is an excellent for travel, it is not suitable for pets that have plastic allergies. Be sure to double check with your veterinarian before use.
As a side note, Bergan manufacturers are currently doing a color transition for this particular feeder. Therefore, you could end up getting the blue-grey color and not the original dark grey.
Verdict and Rating

This is an excellent pet feeder which works the way the advertisements say it will. There are some flaws that have been noticed such as that that you can open the feeder mouth or make it smaller by rotating it, but you cannot actually control how much your pets eat. It comes with an added advantage of being able to use it indoors and outdoors as well as for travel. That being said if you aren't on the road all the time, there may be other cat feeders that may be more suitable.
All in all, the Bergan travel feeder gives great value for your money, especially for those who are always with their pets on the road!
Customer Rating: 4.4 out of 5 Stars