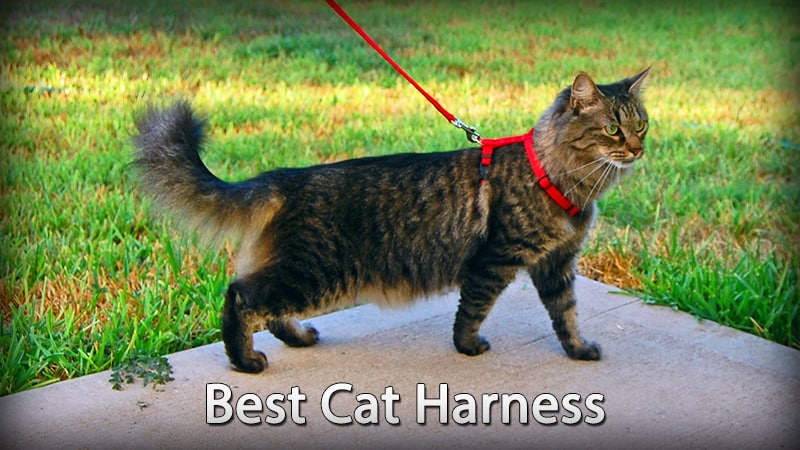 The Best Cat Harness
Yes, you read correctly. Cat harnesses are "a thing" and you might actually want to consider getting one. Whilst the sight of a cat on a leash still tickles most of us, harnesses are becoming increasingly popular.
Walking your cat can be hugely beneficial for their health and also increase the bond between the two of you. It is especially worth considering if you live in a busy area where your cat would not be safe going out alone. It may also help your cat get familiar with a new neighborhood after you have moved house. Younger cats tend to be more receptive to a harness, and it is perfect for allowing them to gain confidence outdoors before you allow them out by themselves.
Indoor cats can really benefit from using a cat harness and it will allow you to control the things they come into contact with. Cats love to explore nature and interact with it the way they would in the wild; scratching real trees, chewing grass and rolling in the sand. A cat will use its brain differently when it is outdoors and encountering new environments, compared to being indoors in a familiar space.
The most obvious benefit is exercise. By walking your cat on a harness you are ensuring that they get enough exercise each day, and they aren't just lying around the house waiting to be fed. Once your cat has built up their confidence and familiarity with the harness they will be rearing to go and explore the outdoors.
If you've decided to train your cat with a harness, then you want to ensure you get the right one. You will want to know that the harness is secure and durable and fits your cat as well as fitting your budget. That's why we've put together a list (+reviews) of the best harnesses for your cat- happy walking!
Top 5 Harnesses 2018
1. Voyager All Weather Step-in Mesh Harness by Best Pet Supplies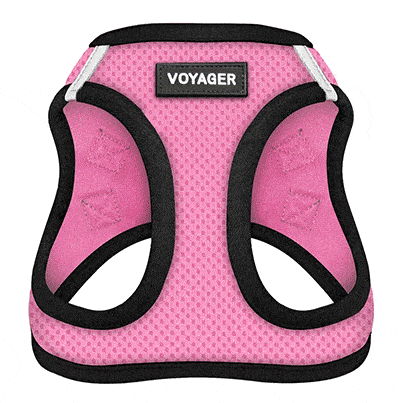 If you're committed to walking your cat in "all weather" then this quick-dry harness is for you! Realistically, most cats aren't going to put a paw outside the front door if it's raining, but this breathable harness if great for keeping your cat cool in the warmer months, as well as cooler weather.
The step-in harness allows you to get your cat ready to walk in no time. You won't need to worry about struggling to get it over their head, simply have them step into the harness with their front legs, close the Velcro, attach your leash and go.
It's super secure so that your kitty will have difficulty breaking free. The harness has a strong Velcro closure and heavy duty metal D-rings for secure leash attachment, so you'll have the reassurance that your cat won't get away on your walk. The harness is durable enough to last for a long time so you can have many walks with your cat
The harness comes in 5 different sizes to fit your cat perfectly. It's also available in 11 different colors: army, baby blue, black, black/blue, teal, black/orange, black/pink, pink/black, black/red, red/black, black/yellow.
N.B. the harness doesn't come with a leash so you will need to purchase this separately.
---
2. Adjustable Cat Harness Nylon Strap Collar with Leash from PupTeck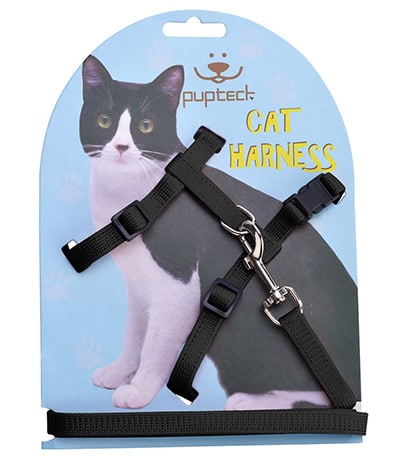 This top-selling harness fits around the cat's neck and back to evenly distribute pressure if your cat begins to pull at the leash. Its straps are adjustable and fits cats (and puppies) under 12 pounds.
The "H" style harness prevents cats wriggling out from the harness like they might do with less sturdy leashes. It is made of durable nylon material which thick and resistant to wear and tear. Plus, the durable snap-lock buckles make the harness easy to put on/take off, which can be an issue with less malleable cats.
It comes in 5 different colors: black, blue, red, pink and multi–colored.
---
3. FunPet Soft Mesh No Pull Comfort Padded Vest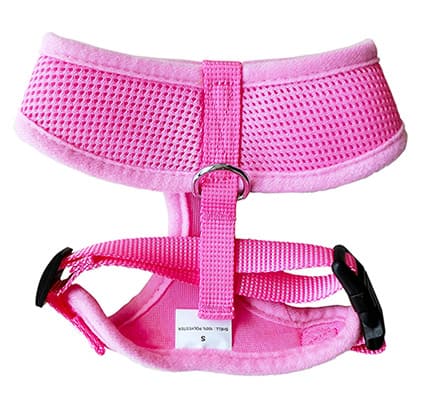 The breathable, 100% polyester mesh ensures that your cat is comfortable in the harness and will not experience any chafing. The padding increases the comfort even further, reducing the likelihood that your cat will try to get out. On that note, it's pretty much impossible to wriggle out of, giving you peace of mind that your cat won't escape on your escapades. The adjustable strap on the back allows you to fit the harness to your cat perfectly.
A couple of things that buyers have noticed is that the harness comes up a little small, so consider purchasing the next size up for your cat. Some cats have also reportedly started walking backward when put into the harness. This is quite a normal reaction when a cat is confused by something new. Avoid the chances of this happening by leaving the harness in a room with your cat for a few days so that they can familiarise themselves with it.
It comes in 6 different colors: black, blue, pink, purple, red and yellow.
N.B. the harness doesn't come with a leash so you will need to purchase this separately.
---
4. Smalllee Lucky Store Soft Mesh Nylon Vest with Leash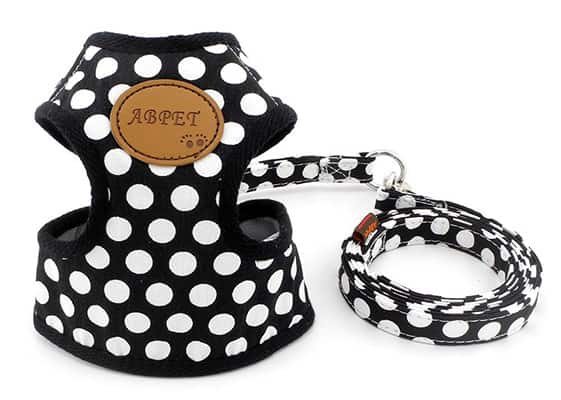 This harness has the added bonus of being machine washable- great if you're going to let your cat explore the outdoors (and all the mud that comes with it). It's made from breathable air mesh fabric and had a padded neck opening to increase the comfort of your cat. Plus, the spotty design is sure to stand out from the crowd (if you weren't content with the attention a cat on a leash brings).
The straps on the back are adjustable, making it easy to fit onto your cat without hurting them or causing discomfort. Some owners have complained that these aren't secure enough to prevent cats slipping out, however, most have found the harness to be very successful.
---
5. Dexil Luxury Cat Harness Padded and Water Resistant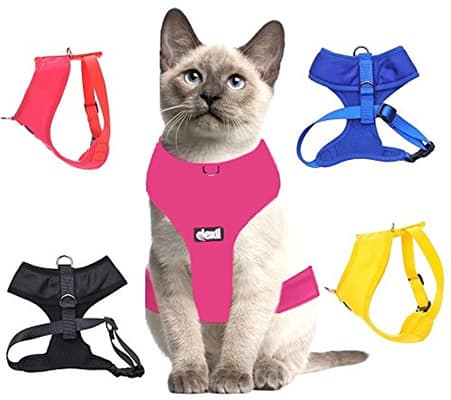 Even though your cat may not go for walks in the rain, they are likely to come into contact with a lot of water. Whether it's dewy grass or puddles, water can really put a dampener (excuse the pun) on your walk. That's why it's great to have a water-resistant harness which will keep your cat comfortable.
The Dexil Harness is padded all over, keeping your cat nice and warm in cold weather. The padding around the edges also prevents any chafing or discomfort if your cat pulls at the harness.
As well as the D-ring for the leach at the back, the harness comes with an additional D-ring at the front to prevent your cat pulling. The clips are adjustable to ensure it fits properly and your cat won't be able to slip free during your walk.
The harness is available in 5 different colors: pink, red, black, blue and yellow.
N.B. the harness doesn't come with a leash so you will need to purchase this separately.
---
Cat harnesses are an excellent way to show your cat around and ensure they get enough exercise. Once you've chosen the harness that works best for your cat, enjoy letting the explore whilst you deepen your bond with your pet.
Having said that, not all cats will be confident going outside and walking on a harness. If you are looking to exercise and mentally stimulate your cat indoors, consider purchasing some fun toys for you to play with. This will get your cat moving and help you bond with one another as well.