Cat Mate C20 Automatic Cat Feeder Review
The Cat Mate C20 Feeder is an excellent solution to feed dry and moist food to your cat. The feeder has an automatic flip lid. You can easily use it during the day if your cat eats twice per day. In the case your cat eats just once every day, you can use it over the weekends.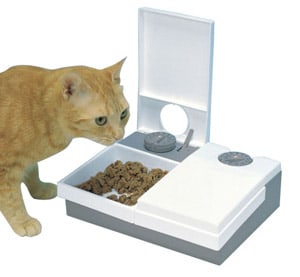 In this review, we'll break down the ins and outs of this product. The Cat Mate C20 Automatic Feeder has been specifically designed to easily feed two cats at the same time.
The product has two different compartments where you can keep the food. Anything moist food you put in the compartments can remain fresh with ice packs underneath the trays. The product works with an analog timer clearly visible on each lid. You can easily flip open the lid to set time. Your cat can be fed up to 48 hours after you set the timer. Each tray can be easily opened to fill up to 450 grams or 1 pound of food.
Features of the Product
There are two different compartments to feed two cats at the same time.
The product is very easy to operate and program.
The Cat Mate C20 comes with ice packs to make sure your food remains fresh.
The duration of the feeding cycle is up to 48 hours.
The product requires 1 x AA/LR6 battery. This does not come included.
Dimensions of the product are 3.8 x 16.2 x 13.8 inches.
The weight of the product is about 2 pounds.
Pros and Cons of Cat Mate C20 Feeder
Pros
Capability to dispense feeding cycles up to 48 hours.
Quality and Well Engineered Design
Supports feeding of both moist and dry food
Cons
Not Genius-Cat proof – they can tip it over
Battery compartment is susceptible to allowing batteries to fall out when not handled properly
No way to tell if batteries are dead or not
Recommendations for Use
If you're planning to purchase this pet feeder, you should buy a few extra trays and ice packs for backup the next day.
It's important to tape the product's battery compartment. It will protect the batteries from falling out.
You should buy a battery tester to make sure your automatic pet feeder doesn't stop functioning suddenly.
Verdict and Rating
It's important to understand that your cat deserves to be fed properly when it feels hungry. The Cat Mate C20 Automatic Pet Feeder is one of the best automatic pet feeders you will find in the market for feeding your cat wet food.  If you need more storage and feed your feline dry food, you may want to look at some of our other automatic cat feeder reviews. It makes sure your cat's food remain fresh, and easily accessible. Moreover, if you have multiple cats that work well together sharing food, the multiple compartments are a great option. **Please note this review is for the C20 feeder – there is a less expensive version called the C10, which just cuts the compartments down from 2 to 1.**
Customer Rating: 3.6 out of 5 Stars