Littermaid LM580 Classic Series Review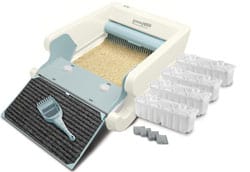 The Littermaid LM580 Classic Series (LM580) is an automatic litter box that works well and keeps things simple. Ten minutes after you cat does his or her business – the device scoops all the waste into a compartment. The unit knows when your cat exits the box due to special sensors created to detect just that. The device can also be activated manually if the litter ever needs extra scooping Littermaid LM580 Classic Series uses a detachable raking system that ensures easy cleaning. A removable litter tray and high side-walls keep litter in the box and not on your floor. A safety bar is included to ensure the device stops cleaning if your cat jumps in during operations. This box is great for cat owners who take short trips on occasion or are looking to scoop and handle waste less. The unit utilizes an AC adapter along with 8 AA batteries for backup in a power outage situation.
Litter Box Features
Created to be used with one cat only (fifteen pounds or less)
Safety bar stops rake attacking your cat and stops any blockage
Sensors work as advertised and start the cleaning process ten minutes after your cat is done
Rake is detachable to ensure easy cleaning
High sidewalls keep litter inside the unit, and not on the floor
Dual power sources
Automatic cleaning or manual cleaning – the choice is yours
Included with Purchase
One Littermaid LM580 Classic Series Automatic Litter Box
One scooper
One backup battery compartment
Four carbon filters
Four waste receptacles
Dimensions
This unit features dimensions of 24.8 x 17.7 x 9.8 inches. The pan size is 14 x 14 inches. These aspects make this litter box a good fit for single cat homes, not multi-cat households.
The Pros and Cons of the Littermaid LM580 Classic Series
Pros
Incredibly easy to assemble
Carbon filters work well to control odors
High sidewalls work as advertised and control litter from exiting the box
You won't need to scoop nearly as much with this device
Rake is removable to ensure easy cleaning
You won't need as much litter with this box (compared to a standard litter box)
Cats adapt to this unit quickly because it looks like an ordinary litter box
Scooper is included to remove any waste the rake doesn't catch
Tray is easily disposed of
Reasonable price and good value
Not too loud when operating
Cons
Expensive to replace plastic waste compartment
Motor does make noise when cleaning
Rake often misfunctions and only drags waste stuck on the rake into the compartment (a high-quality clumping cat litter will avoid this issue)
Shallow full line for litter. A digging cat will not like this box
The sensors won't work if they get dusty
The unit can stop working is too much litter ends up in the corners
Motor doesn't have much power to get big clumps
Tips & Tricks
If your cat would benefit from a ramp, you'll have to order that separately.
You can use a plastic bag instead of waste trays. This will save money
You cannot place the unit close to a wall, or your cat will only use one side. This will cause an overload with this device and blockage
It is crucial to choose a high-quality clumping cat litter with this device. The better the litter – the better this device will work.
Important Notes
While the 8 D batteries can be used to power the unit – they will run out fast. Even though you technically don't have to plug the machine in, you should. The batteries run out too quickly when operating the Littermaid LM580 Classic Series. One of the best aspects of this automatic litter box is the rake. Made from high-quality plastic – the rake doesn't accumulate much waste like other metal ones seem to. Less waste sticking to the rake equals less cleaning for cat owners.
Overall Rating
The Littermaid LM580 Classic Series is a fine automatic litter box for your furry friend. The device works as advertised and makes cat owners lives a lot easier. This is especially true if you only have one cat using the unit. Cat owners must be aware that this is not a set it and forget it type of litter box. You'll have to do some work to maintain cleanliness with this unit. You'll have to invest in high-quality clumping cat litter if you want this box to work well. You'll also have to be careful about not overfilling the litter area. Too much litter could damage the motor, and it will spill onto the floor. Occasionally you will have to scoop this litter box, but it's a great option for cat owners looking for some help. If you want completely automated, check out our in depth guide for more options. Overall, the Littermaid LM580 Classic Series is a good automatic litter box for many cat owners.