MOTA Perfect Dinner Automatic Pet Feeder Review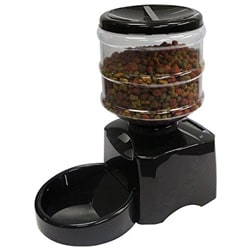 The MOTA Perfect Dinner Pet Feeder is an intriguing idea for pet owners that are too busy with work to be sure of regular feeds, people who going away and do not want a pet sitter and for helping pets with dietary restrictions. The company tells customers to "think of it like a personal chef, made just for your pet" as it should be relied upon for precise and regular feeds through a simple, friendly device.
Features
The key sales claims with this dispenser is that the timers and programs are allegedly easy to set and to see due to the large LCD display. These programs allow for variable portion sizes from ¼ of a cup to 1 and a half cups of pet food. In addition to this, the container holds over 7lbs of food and is transparent so owners can tell when it is about to run out.
There are some products similar where buyers say their cats have an almost Pavlovic response to the sound of the simple mechanisms and food release. This feeder goes further to provide a friendlier edge by letting owners record their voice onto the device. To be honest, buyers seem to be indifferent about this gimmick, especially cat owners whose voices are of little use at the best of times.
Pros and Cons of this feeder
Pros
Large LCD display
Easy to assemble
Large food capacity – up to 7 pounds
Transparent hopper allows owner to know when refill is needed
Good for both dogs and cats
Easily removable hopper for refilling and cleaning
Cons:
The feeder only has the ability to set feeds to certain times of day – "breakfast" being no earlier than 5am
Not as customizable as some would like
Some smart cats figure out how to get food out via the chute
Hopper not very durable
Battery operated – need to be aware of battery life before leaving the feeder alone
Recommendations for Use
Because the machine is a little more complicated than some buyers would like, it is worth taking the time to play around with feeder's possibilities before leaving it in charge of a pet's diet. Many users try and trick the machine into dispensing the food at the right time, with some resetting the clock so that it is out by a few hours to compensate. The pet-proofing issue is another one in need of some modifications and many have made simple adaptations to the chute to stop paws reaching inside.
Verdict and Rating

The Perfect Dinner Automatic Pet Feeder is a little flawed in its design, especially when it comes to the lack of customization, and it could perhaps be a little more pet proof but that doesn't mean that it is a bad product. If you have a smart pet with an unusual or particularly strict diet than perhaps a different brand may be a better choice; however, if you are prepared for some trial and error then this product could prove to be worthwhile aid for your pet's diet and a reliable feeder.
Customer Rating: 3.4 out of 5 Stars