Nature's Miracle Single Cat Litter Box Review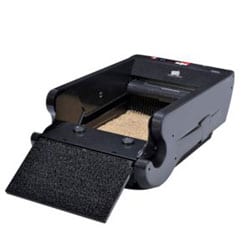 Nature's Miracle Single-Cat Self-Cleaning Litter Box was designed to automatically clean the litter area after your cat does his or her business. Sensors designed to detect motion are used to determine when your cat exits the box. Then the device beings cleaning 20 minutes later as a rake combs through the litter and pushes waste into a compartment.
This chamber is filled with a carbon filter to eliminate odors. An innovative sleep timer was added to the device to ensure there's no noise when cat owners are trying to sleep. High sidewalls created to ensure cat litter stays inside the litter box.
A paw cleaning ramp was added to keep granules off the floor. A detachable rake allows for a simple cleaning process. You'll want to use premium clumping cat litter with Nature's Miracle Single Cat Automatic Litter Box.
Litter Box Features
Paw cleaning ramp included to keep floor clean
Anti-microbial protection blocks bacteria from growing
Rake is removable to ensure simple cleaning process
Sleep mode can be activated for 9 hours every night
Carbon filter removes odors
Dual-motion sensors easily detect when your cat enters and exits the box
Included with Purchase
One Nature's Miracles Single Cat Automatic Litter Box
Four waste receptacles
Four carbon filters
Measuring scoop for litter
One AC adapter
Dimensions
This litter box features dimensions of 24.8″ x 17.7″ x 9.8″ and a litter area of 14″ x 14″. The unit weighs nearly 13 lbs.
Pros and Cons of Nature's Miracle Single Cat
Pros
Simple assembly and setup
Backup battery power option in case of power going out
Large waste receptacle
Easy cleaning due to detachable rake
Well-priced
Sleep timer perfect for small apartments and homes
Anit-microbial
Cons
The device is quite loud
Plastic is flimsy and often malfunctions (see: waste bin)
High sidewalls are not that high. Often they do not keep kicked litter inside the box
Waste container's lid is prone to coming off, and thus, spilling a mess on the floor
Rake doesn't touch the bottom of the pan. This means the unit can't catch every clump
Rake often gets blocked
On/Off button can be stepped on by cats, and machine will be turned off
Tips & Tricks
More so than other automatic litter boxes – you have to invest in premium clumping cat litter with this unit. We recommend giving the "World's Best Cat Litter" a try first or using "Tidy Cat Scoopable Instant Action" if price is a concern.
Overall Rating
Nature's Miracle Single-Cat Self-Cleaning Litter Box is an average unit for your cat. However, we cannot endorse or recommend this unit. There have been numerous design flaws reported by cat owners who purchased this unit.
While some customers have been content with this device, there have been way too many complaints to recommend the Nature's Miracle Single Cat Automatic Litter Box to other cat owners. Most reviews state the customer is not happy with this device, particularly in the price point.
The unit is loud. The device gets stuck easily. The waste compartment is made of cheap plastic. It's easy to spill the waste due to this cheap plastic. Even with tinkering and adjustments, most cat owners found the unit not worth the effort.
Overall, Nature's Miracle Single Cat definitely not one of the best self cleaning litter boxes on the market and probably not worth the money. Cat owners will be better off choosing a number of different automatic cat litter boxes on the market – make sure to check out our full reviews guide for more options!