PetSafe Healthy Pet Food Station with Stainless Steel Bowl Review
The PetSafe Healthy Pet Food Station with Stainless Steel Bowl is a lifesaver. Literally.

Is your cat allergic to plastic? Many cat owners are looking for viable and safe alternatives to the plastic bowl you're using now. Many cats are allergic to plastic, but not many cat owners realize this right away.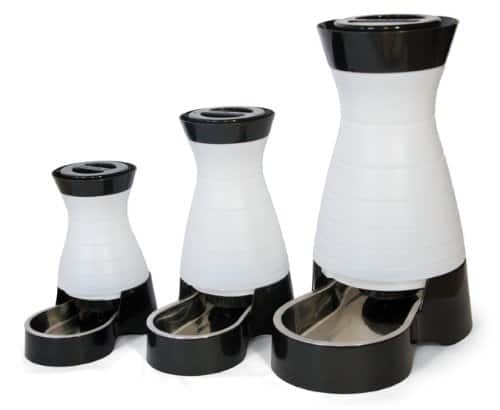 Cat owners tend to gravitate towards feeding their cats in plastic food bowls. So when their cat isn't feeling well afterwards they tend to think that some ingredients in the food didn't sit well with them. However, they forget to take into consideration the material used to make the feeding bowl.
The PetSafe Healthy Pet Food Station with stainless steel bowl is a good solution for cats that suffer from allergic reaction to plastic. It has been touted as one of the best solutions for pet owners looking for a safe and toxin free material bowl that they can use to serve food and water with.
What You'll Get

This feeder comes with a gravity food system and removable-stainless steel bowl. It is dishwasher safe, so you don't need to worry about wasting your time over manual washing and cleaning. The steel bowl can also be easily sanitized at high temperatures in the dishwasher. This is to eliminate potential bacterial problems that can cause harmful infections, allergic reactions on the skin and nose irritations to your beloved cat.
The most touted advantage of using this product is that it can save you a lot of effort on adjusting the schedule to match your cat's feeding habits. The hopper attached to the feeder can hold about 2-4 pounds of dry pet food and typically for indoor use. This feeder comes in all sizes – small, medium and large. You can buy it easily from any pet store or order online, as per your convenience. It's also highly customizable by allowing colors and designs of your choice to be imprinted.
Features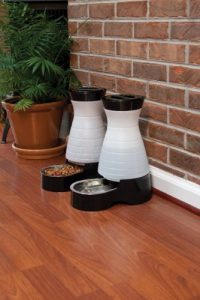 Easy to keep clean and dishwasher safe – This compact products is very easy to clean. You can wash it in your dishwasher using mild soap. If serving dry food, then using a dry washcloth should be enough to keep it clean.
Stainless steel bowl – The stainless steel material is highly recommended by vets. It is also a good material to consider if your cat is already allergic to plastic. It is also removable which makes it easy to use and clean.
Lock-in hopper – This feature is added to prevent it from being knocked over and spilling. It can come in handy if your cat just cannot eat without this occurring (WHICH HAPPENS ALL THE TIME!!) This feature will also help your cat adopt good eating habits.
Holds 2-4 pounds of dry food – The hopper can hold up to 2 pounds of dry food in small version and 4 pounds in the medium version. Thus, you do to have to worry about changing your plans to feed your cat. With so much capacity to hold, it can easily keep your cat full even when you are not around.
Pros And Cons

Pros
It comes with high quality and durable stainless steel bowl
It helps prevent allergic reactions on your cat
The stainless steel bowl is removable and dishwasher safe
It boasts a gravity design system to make sure your cat gets constant fresh food
Simple design…that works!
You can get the fresh water dispenser to match the feeder from any pet station
Low price tag
Cons
Difficult to regulate the unnecessary dropping of food if bowl is still full
Cheap materials – not as durable as it could be (You get what you pay for)
Verdict and Rating

This product seems to have more pros than cons, especially when it comes to the price tag. People who have already used this product have shared positive reviews and recommend the same to others looking for a good food system for their cat.
Knowing the needs and requirements of your cat, only you can make the decision on this one. Although there are a few gravity feeder options, if you're on a budget and are looking for a hands free option when it comes to feeding your pet, go this route!
Our Rating:

4.15/5 Stars