Qpets 6 Meal LCD Automatic Pet Feeder Review
The Qpets 6 Meal LCD Automatic Pet Feeder is another one of those automatic pet dishes which holds up to 6 meals. It is an excellent choice if you would prefer a cat dish feeder as opposed to a bulky feeder. It is also a must have if what you seek is an easy way to feed your cat without having to store pounds of food in a feeder. It has a lid that locks firmly in place and a safeguard protection system to keep those cunningly smart pets and cats in particular from taking more food than they should.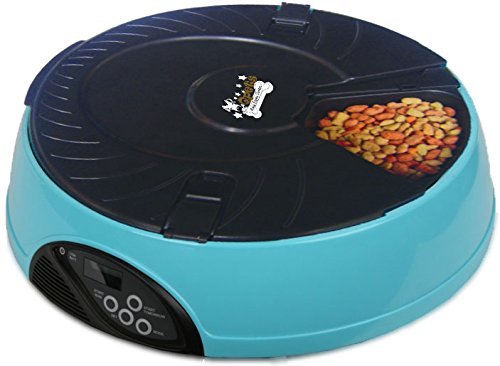 Features/Mechanisms
This pet feeder comes equipped with a microphone, a speaker and the ability to record a 6 seconds personal message for your pet. This message is usually used as a calling message to let your pet know it is time to eat. It is a sweet personal touch especially if you are gone all day and don't want your pet to feel so lonesome. Your voice calling them to eat can do wonders.
This dish has the dimensions of 12.6" x 12.6" x 5" and requires 4 C sized batteries to operate- these batteries are not included in the package. What is an additional plus is that this this feeder comes equipped with a low battery indicator to ensure that your feeder will not stop working. This is particularly handy if you will be gone all day. The last thing you need is your pet to be unable to access its feed.
Though this dish is not highly programmable you can select the feeding times and intervals for your cat to have up to six meals per 24 hour period. The first meal is served at the time you program it and then the others at later intervals.
View the Best Rated Cat Feeders
Pros and Cons of the Qpets 6 Meal Feeder

Pros
The lid contains dual snapping locks which prevent the cover of the food tray from coming loose. It also prevents your pet from pulling the cover off to access extra food inside.
The rotation system is reliable and rotates as designed to make food available. The tray opens up to 10 seconds before the scheduled feeding time, and opens for each compartment entirely so as not to encumber your pet while they eat.
This is an excellent feeder for monitoring exactly how much your pet eats and when. It also provides the option of placing small portions in the tray. This is if you prefer that your pet eat smaller portions of food more frequently.
Unlike most other feeders it operates relatively silently.
Another big advantage is that the feeding slots are easily removable for proper cleaning.
Cons
As a first time user, this dish can be pretty tricky to program.
If you have one of those smart pets, it can easily open the first slot cover.
The materials from which it is made is FDA approved but not of very high standards which means it is not the most durable dish out there on the market.
You will have to reset this tray every single time a cycle ends.
It does not contain ice packs to help keep food moist; therefore, you will need to ensure your pet has an adequate water supply close by.
Once turned off you will have to re-program the meal schedule. This is not retained once there is no power.
It only works with batteries.


Recommendations for Use
Ensure not to full each compartment too much. This will prevent the cover from opening and making food available to your pet.
Keep extra batteries on hand so as soon as the low battery sign starts flashing you can replace them.
If you want to provide your pet with moist feed then fill the removable tray and put it in the freezer overnight. This system provides a maximum of two meals, so bear that in mind.
Each time you refill the dish you need to push the "start now" button for it to begin its cycle.
Ensure that you set the feeder up with ample time before its first schedule is set to start. Also ensure you select the "start now" button and definitely NOT the "start tomorrow" button. This is a common mistake with many first time users.
Use only if your pet is small and non-aggressive.
Verdict and Rating

A huge positive of the Qpets 6 Meal LCD Automatic Pet Feeder is that it is far more customizable than many other feeding dishes. The personal message you are able to record gives an added touch.  If you have aggressive cats, this may not be the dish for you but if you're looking for a solid automatic cat feeder, the Qpets 6 Meal LCD is definitely a bargain for the money.
Our Rating: 3.4 out of 5 Stars