Drinkwell Ceramic Pagoda Fountain Review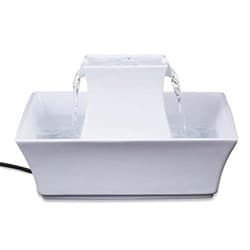 The 70 oz Petsafe Drinkwell Pagoda Fountain is made of ceramic and is an excellent substitute for plastic water dispensers if your cat pet is allergic to plastic.
The running fountain constantly circulates fresh water, while the replaceable charcoal filter eliminates any bad tastes and odors. If you want to keep your furry friends hydrated, this fountain is an excellent option.

Features
The Petsafe Drinkwell Pagoda Fountain comes with the following components:
A ceramic center piece and ceramic dish.

A submersible pump located under the center piece.

A pre-filter made of foam which surrounds the pump and serves a protective layer.

A filter holder which also has a cap.

A charcoal filter which is replaceable.

A relatively small rubber covering which protects where the cord for the pump passes through the bottom. This keeps the water from leaking out.

An inline plug with a detachable cord. This is so the unit can be unplugged without totally unplugging it from the wall. It makes it easier to move around and clean. It is also an extremely useful feature if for some reason you have to plug the unit behind furniture or in tight spaces.

An adaptor.
The Pagoda is a unit that is both simple in design and aesthetically pleasing. The porcelain design makes it hygienic and easy to clean. It has upper and lower dishes which provide your pet with two options as to where to drink from, and a dual free falling stream of water which supplies cool, fresh and oxygenated water. This encourages your pet to drink water more often, helping to prevent urinary tract infections, which cats are prone to. 
With dimensions of 10.6 x 6.4 x 12.2 inches, it is small and fits easily into corners or in small spaces. It is however, recommended that you place it against a wall for support. The unit is very stable but larger cats who have a tendency of hopping over things, could cause it to topple over. It uses a 12-volt system which is low and relatively safe, especially with the cord being retractable.
The submersible pump means the motor operates in silence, however as with anything that uses a pump, a bit of sound can still be heard. Weighing in at 3.2 pounds, it is heavier than other plastic fountains on the market but still light enough to be moved around and cleaned.
Pros and Cons of the Drinkwell Pagoda Fountain
Pros
Simple to refill by hand


The motor for the pump is quiet when the fountain is full

Extremely easy to clean the ceramic



Super easy to change filters compared to other brands


The charcoal filters help to reduce odors and bad tastes.

Pre-filter protects the pump from animal hair and small particles that could cause the pump to become clogged.

Has an upper and lower area

Extremely good solution for pets with allergies to plastic.

Pets can stand up fully and drink from the fountain instead of stooping.

The detachable cord is easy to use and convenient.

Need to remove the pump for cleaning? no problem!

Cons
Smaller water capacity than other options


The motor speed is not adjustable.

Though this unit is described as dishwasher safe, the manual advises that hand washing is best.

You will need to remove two types of filters and replace them

A bit pricier than some other models
Verdict and Rating
 The Petsafe Drinkwell Pagoda Fountain is extremely simple yet efficient, and tends to stay clean longer than plastic water fountains. Though you have to pay close attention to the filter because it gets dirty pretty easy, using filtered water can reduce this. (Be sure to check out our other suggestions)

One of the biggest advantages to this fountain is that it is far easier to clean and far more durable than its plastic counterparts making it worth its heftier price tag.
Our Rating: 4.7 out of 5 Stars