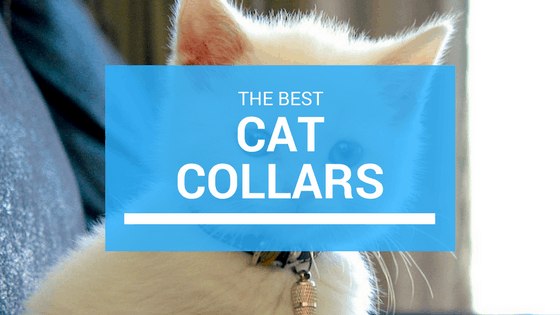 Best Cat Collars: A Cat Owner's Go-To Guide
Why invest in one of the best cat collars? Should you get a collar for your cat before allowing the feline to enjoy outdoor activities?
Definitely. Before you let your furry friend explore the great outdoors, you need to get a cat collar. While going outdoors with your furball can be great fun, as you both benefit from taking in some nature, you need to keep the feline safe.
Why Your Kitty Needs a Collar
Does your furball need a cat collar? Why?
Well, there are many reasons to buy a cat collar. Studies have shown that only around 2% of lost cats ever get returned to their humans. That's not a positive statistic, and it gets even worse if your furry friend doesn't have ID.
Cat collars help ID your cat. When someone notices a lost cat with an ID tag, they know the furball has a family that cares about him. This increases the likelihood that someone will return the cat to its rightful owner.
The best cat collars are so much more than a style accessory for your furball. These collars offer safety. Often, a collar is the only safety net you have if your cat forgets his way back home.
Creating the Perfect ID Tag
Now, you need to create the correct type of ID tag for your cat collar to get any benefit from it. This means you need to include a few variables. Make sure to include these items on your cat's collar:
Name
Address
Your telephone number
Once your cat has been wearing the ID regularly, make sure to check it each month. You need to make sure all the information is readable and up-to-date.
Is a Microchip Important?
Many cats are "microchipped" these days. This ensures you never truly "lose" your cat. However, many cat owners find an ID tag is still important for cats with a microchip when they get lost.
If your cat is found, the individual can return your cat immediately. There'll be no delay. Plus, a lot of people won't be able to read the microchip, either.
Finding the Best Cat Collar For Your Furry Friend
Many cat owners struggle to find the perfect collar for their furball. There's a wide variety of models and styles available. Common styling includes:
Faux leopard print
Embroidered
Studded
Rhinestone
Classic one-color
…And more!
Once you find the right collar, you still need to get your cat to wear it. The best way to do just that is to introduce the collar slowly. Start without any jingling bells or tags. You don't want to scare the cat.
You'll want to adjust the collar, so it's properly fitted on the cat. Make sure it isn't too tight or loose. The general rule-of-thumb is this: 1-2 fingers side-by-side should be able to fit between the cat's neck and the collar.
Some cat owners prefer to use a breakaway collar. These offer a fastener that automatically releases if it is pulled. Some believe these are safer for cats.
When you order your first cat collar, make sure to get a double set. You'll want to have a spare collar and set od ID tags on hand. If the first set gets lost, you won't have any worry. You'll just immediately replace it.
Cat Collars, Leashes and Walking Your Cat
While cat collars offer a lot of benefit to our furry friends, you need to know one thing…
You cannot walk your cat in a collar. It'll hurt their neck. If you want to take your cat on walks, which is certainly possible with training, then you need to buy a proper cat harness and leash.
By utilizing a harness, you'll protect your cat's neck and frame. A harness ensures your furry friend's health and safety during long walks with a loving owner. A collar provides a trip to the vet. Don't risk it.
Top 3 collars 2017
If you're ready to buy a cat collar, we tested out a variety of models. Here are a few recommendations of the best kitty collars we tried:
1. Custom Embroidered Cat ID Collars featuring Breakaway Safety Release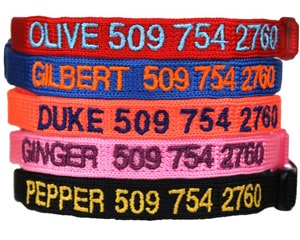 Everything you'd look for in a cat collar. This model is made out of nylon material and completely adjustable. The breakaway safety release feature ensures the collar releases if it were to get caught on anything.
Along with the safety features, this model is customizable. You can add your cat's name and your phone number to the collar. Not only that, but you can also add a small pet ID tag that offers more contact information and addresses.
As this item is customizable, you'll find the checkout process on Amazon is a bit different. Don't worry! It's worth it and super self-explanatory.
Overall, highly recommend.
---
2. Personalized & Reflective Cat Collars with Breakaway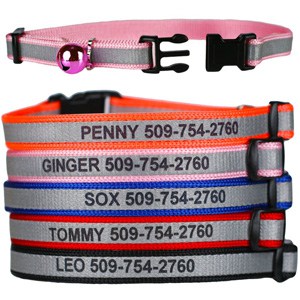 Another fantastic breakaway cat collar, these personalized and reflective models offer a variety of safety features and robust design. The model will release if your cat ever gets caught. Each collar can adjust from 8-12 inches.
Due to the reflective nature of this cat collar, your cat will be highly visible in the dark – which is a great safety feature. The reflective collar can be seen up to 100 feet away.
Your identification information and the cat's name will be engraved by a laser into the reflective strip of this cat collar. As this is a customizable model, you'll order on Amazon by entering details during the purchase process.
Overall, this is another one of the best cat collars. The best model will come down to your budget and style choices.
---
3. Coastal Pet Products Nylon Safe Cat Breakaway Collar featuring Bells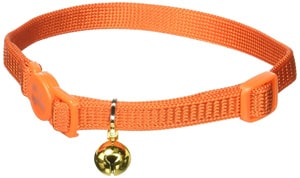 If you're looking for a basic cat collar, then this Coastal Pet Products model may be for you.
A collar made of none-snagging nylon, the breakaway feature is designed to release if your cat ever got caught. 8-12 inch adjustable size ensures the ideal fit for most of our furry friends.
A bell feature will allow you to hear your cat moving around the house or escaping outdoors. It can be removed if you don't like the extra noise.
You cannot personalize this option. As such, this collar is just for cat owners looking to cover the basics.
---
Getting a cat collar on your furry friend is a huge step in keeping your cat safe. You'll ensure that he'll have a chance of finding his home if he ever gets lost. Plus, you'll get some peace of mind when he jets out the back door and scales the fence, again….
You can learn more about cat harnesses and walking with your furry friend by clicking here.
Here's to happy, healthy, and safe kitties all around!