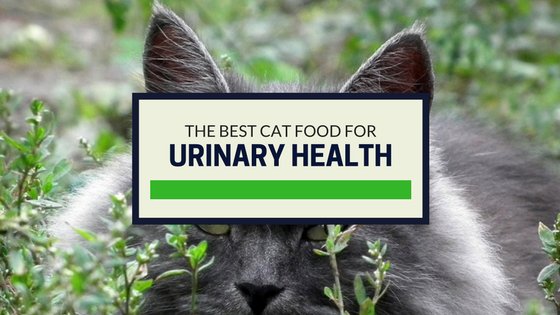 The Best Food for Your Cat's Urinary Health
All animals are prone to different problems. As humans, we suffer from heart issues and cancer all too often. Each species is bound to be prone to certain health problems. It's just a part of life. Cats often struggle with similar problems as humans do. A few common ones include diabetes and hyperthyroidism.
Urinary health in cats is an all too common problem, but incredibly important. Your cat cannot live a healthy life unless you make their urinary health a priority. It's easy for your cat to get dehydrated and suffer. Urinary tract disease is bound to happen to your cat – unless proper precautions are taken.
Our Top Cat Food Choices for Urinary Health
| Food | Used For | Price | Rating |
| --- | --- | --- | --- |
| | Urinary Tract Infections | $ | |
| | Urinary Crystals | $$$ | |
| | Cystitis | $$$ | |
| | Overall Urinary Health | $ | |
Pay Attention to the Litter Box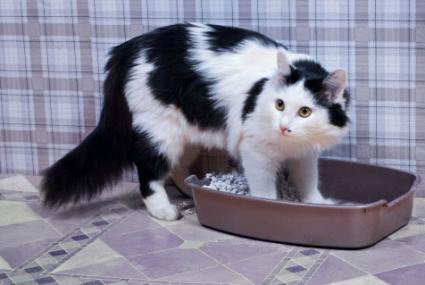 If you're a cat owner, then you must monitor your cat's actions at least every month to ensure they have not fallen ill. The earlier you notice a health problem in your cat – the easier it is to combat moving forward.
If you notice any symptoms of urinary tract infection in your cat, you need to see a vet immediately. These symptoms include litter box straining, too frequent urination, blood in urine, urinating in a weird place (can be a soft area), licking genitals too often, and more.
Common Problems with Cat Urinary Health
As a pet owner, it will be hard to determine which issue you cat is suffering from. You'll need to run your furry friend to the vet if you notice urinary health concerns. Common problems with cat urinary health are:
Cystitis
Lower urinary tract symptoms
Urinary tract infection
Urethral obstruction
…And many more!
If you're anything like me, then a lot of those ailments don't make too much sense. This is why a vet visit is important when you start to see litter box irregularities. Don't waste time. Even though the vet can be expensive, your cat sometimes has to see him or her.
What Ingredients to Look for in Food?
The first thing cat owners must understand when looking into cat food for a feline with urinary problems is water content. Cat's usual prey in the wild offers 70% water content. Dry cat food has 5-10% water while canned cat food features around 78% water.
Due to these stats, a cat that eats canned food has around double the amount of urine flowing through his or her bladder. The more water flowing through the urinary tract system – the higher likelihood it stays healthy.
Cats who eat dry food do not make up the difference in water consumption. Cats were not created to consume much water. They were meant to hydrate through eating. If your cat eats a diet of 100% canned food – you should have no urinary tract issues. If your cat eats a diet of 100% dry cat food – you'll probably find urinary issue springing up left and right as your furry friend ages.
Best Choice for Urinary Tract Infections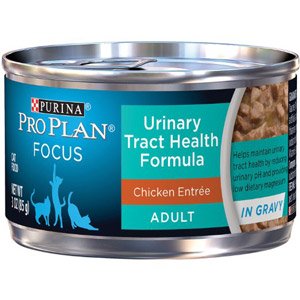 If your cat is struggling with a urinary tract infection(s) – the first step is to switch to canned food only. The best canned food to change to is Pro Plan Focus Urinary Tract Health Formula Adult Canned Food. This formula is chicken-based. You don't need a vet's prescription to purchase it. The food provides low dietary magnesium to your cat and reduces urinary pH.
Top Pick if Your Cat Has Urinary Crystals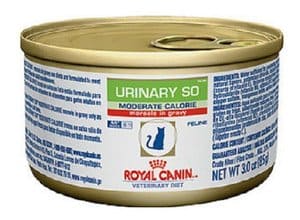 For cat's struggling with urinary crystals, the best food is Royal Canin Veterinary Diet Urinary SO Morsels in Gravy. This cat food is chicken-based but features pork as a healthy second ingredient. You'll need a vet's prescription to order this food (even online), but many cat owners have found the canned food worth it.
Best Cat Food for Cystitis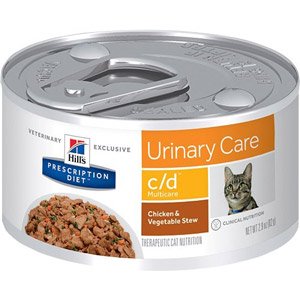 Cystitis is a severe condition for your cat. If you suspect he or she has it – you need to get them to a vet immediately. Once the vet figures out what is wrong, you'll want to start your cat on Hill's Prescription Diet C/D Multicare Feline Bladder Health w/ Chicken Canned Food.
Best Food for Overall Cat Urinary Health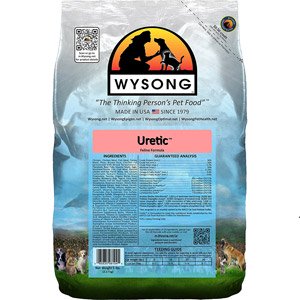 While dry cat food for any cat with a urinary health issue isn't the best idea, many cats struggle to switch from a dry food diet to canned food. Wysong Uretic Feline Diet Dry Cat Food is the absolute best dry cat food on the market if your cat suffers from urinary issues. This food is also ideal for proactive cat owners looking to feed their dry cat food from a young age.
Overview

Your cat's health is important. And urinary health issues are all too common in cats. If you notice irregularities in your cat's litter box tendencies, a vet visit is in order. Once you confirm the problem, you can use the cat food list above to figure out the perfect food for your furry friend.
Take all irregularities into account and make an informed decision regarding your cat's ailment and the food he or she needs to be eating. If the problem needs immediate attention, then you'll want to start with one of the canned wet cat foods and move on from there.