Cat Mate C50 Review
The Cat Mate C50 5 Meal Pet Feeder is an automatic cat feeder that can really take a load off of refilling your cat's dish every meal. Although it does only hold 5 meals, this feeder seems to be best if you primarily feed your cat wet food only. There are plenty of other options for dry food, but with the features the C50 packs in, there's no shying away from the usability and convenience factor.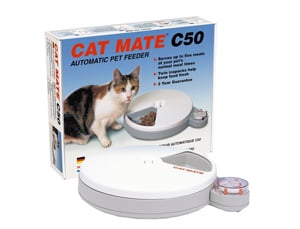 Upon loading the feeder, one meal will be served when you are setting it up and the rest will be served at different times of the day based on the programmable times that you have set. It has a rotating system of lids that expose the food compartments after the time interval that has been set. The four compartments can contain either moist or dry cat food.
Features
It is controlled by an analog timer.
It can serve up to 5 meals in one day.
It has a 90-hour meal time program.
A rotating lid system is responsible for serving the food to the pet.
Only needs one AA battery to operate.
There is a battery condition indicator to warn you when the battery is low.
You can put in two ice packs that will help to keep moist wet food fresh.
An analog timer is responsible for controlling the rotation of the lid system. The speed of rotation depends on the timer settings. The minimum time that you can set between different meals is 4 hours. If you want to feed your cat with moist food, you can easily place two ice packs below the tray to keep the food fresh and long lasting.
Pros and Cons
Pros
It has the ability to serve up to 5 meals.
The timer allows a minimum of four hours between two consecutive meals.
It has a 90-hour length program.
It allows you to give your cat moist and dry food.
The twin ice pack makes it possible to keep the food fresh for a long time.
Dishwasher proof washing is solid for getting rid of bacteria
Cons
Can be broken into – some user reviews state that their cats can move the dials
The ice can melt rather quickly, so be sure your cat is eating food in time allotted
Trays can only hold so much food, be careful with serving sizes to avoid weight it down.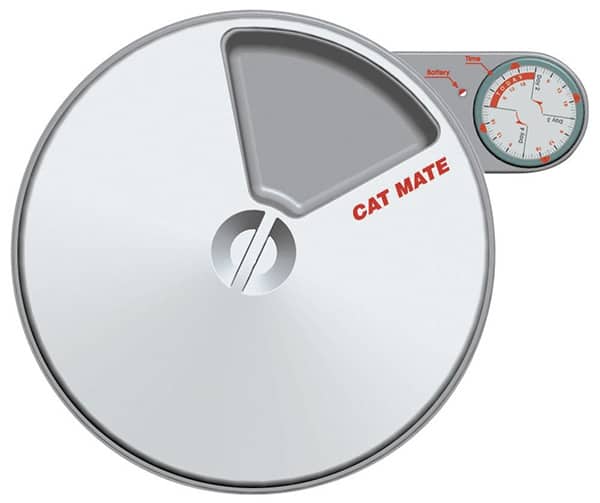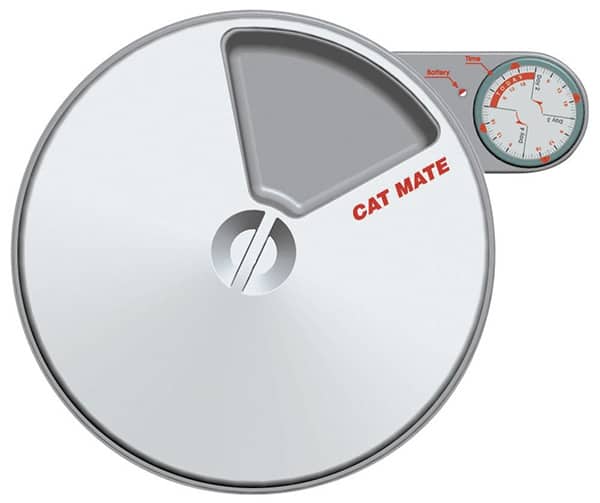 Verdict and Ratings
As all cat feeders have their pros and cons, the cons list is relatively minimal for this simple to use feeder. The Cat Mate C50 Automatic Pet Feeder is definitely one of the top wet cat food feeders because of its ability to store ice packs underneath the trays.
 If you feed your cat wet food, this feeder is definitely a great buy at its price point.However, if you primarily feed dry food to your furry one, there are plenty of other optionsin our automatic feeder guide that you'd be better off taking a look at.
Our Rating:  

4.1/5